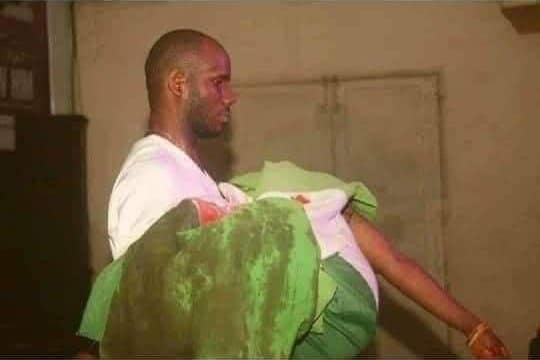 More than 48 hours after the alleged massacre at Lekki Tollgate by a team of the Nigerian military, the 'real victims' of the alleged massacre are yet to be seen.
On Tuesday 22nd of October 2020, Social Media was awash with reports of soldiers gunning down people, and bodies 'falling right, left and center'. Two protesters shared live video feeds from their accounts, @djswitch_ and @godson45. While the videos showed some protesters injured, none of the videos showed any fatality.
Now let's break it down.
Nigerian Army
Operatives of the Nigerian military were allegedly deployed to the Lekki Tollgate. Video footages showed men in military uniform. Dateline Nigeria cannot independently verify the men were officers of the Nigerian military. However, the Nigerian Army, via its official Twitter account denied deploying soldiers to Lekki Tollgate.
Also, governor Sanwo-Olu admitted there was a shooting, but confirmed there was no fatality.
Billboards switched off and removed CCTV cameras
There were allegations on Social Media that government switched off the billboards, the streetlights around the premises, minutes before protesters were gunned down.
The governor of Lagos State, Babajide Sanwo-Olu has denied this during a broadcast the morning of Wednesday, 22nd October 2020. It was later revealed that Infrared cameras (number plate scanners) were removed by the LCC fearing vandalisation by hoodlums. Governor Sanwo-Olu further confirmed that the CCTV footage of Tuesday 21st of October are intact and will be given to the judicial panel of enquiry once they commence investigation.
EIE Nigeria, an NGO that promoted the story of the removal of the CCTV Cameras issued apologies on social media for the error.
Governor Sanwo-Olu added that two critically wounded victims had been operated on and were in stable condition while others with "mild to moderate" cases are still receiving treatments at various hospitals in the area. He confirmed these after visiting them.
Eniola Badmus
The Nollywood actress was reported to have suffered injuries as a result of shooting by the military. Some people claimed the actress was shot in the stomach and died from the injuries sustained. These allegations forced Badmus to issue a statement on Instagram debunking the news of her death.
"Against all speculations about me being shot or dead at the unspeakable incident that happened at the toll gate a few hours ago, I would like to inform you guys that I Eniola Badmus is hale and hearty. I couldn't make it there today to lend my voice on the #endsars movement."
Iraoya Godwin
Rapper M.I. and other celebrities shared the photos of Iraoya Godwin, claiming the young man was killed at Lekki Tollgate. Mr. Godwin however posted on Facebook saying there was a mix-up somewhere that he is alive.
Mr. Godwin wrote, "This is to tell my friends and family that I, IRAOYA GODWIN is alive, there is a mixed up of information thanks" [Sic]
Furthermore, a video recording of Mr. Godwin has surfaced on Twitter, where the young man denied being killed by soldiers.
Stephen Okowe
Photos of Mr. Stephen trended on Twitter with captions such as "This is the guy that died live on IG", "Rest in Peace Stephen okowe, you didn't die in vain."
Mr. Stephen uploaded a video on Twitter confirming that he is alive. While replying to Femi Fani-Kayode, Mr. Stephen pleaded with FFK to please remove his picture from his Instagram account saying he is alive.
Mr. Stephen added that he is fighting for his survival online and offline.
Anthony Okechukwu
Comrade Anthony Okechukwu, a former student of Michael Okpara University of Agriculture, Umudike Abia State was alleged to have been killed at the Lekki Tollgate massacre. Investigation by Dateline Nigeria revealed that the young man died in a road accident. He was said to have sustained injuries leading to his demise.
Lucy Adu
The young lady was said to have been killed at Lekki Tollgate. She was celebrated as a martyr on Social Media after the news of her death. A post reads, "She was dancing an hour before she was murdered by the Nigerian armed forces Lucy was her name #endsars- a bullet hit her in the face and ripped half her face off."
Investigation by Dateline Nigeria revealed that Lucy Adu died from an accident when their bike hit a stationary truck on the 20th of October, 2020. A new fact-checking account EndSARSFctCheck also confirmed that Ms. Lucy did not die from gunshot wounds.
They wrote, "We have verified information that Lucia Adu died from an accident with a stationary truck on 20th October 2020. Her death was not from a gunshot by anyone. #EndSARS"
Falz, Yemi Alade and Co. and the 'Independence Drama'
Some celebrities posted a photo of a young man (featured) allegedly carrying a protester that was killed at Lekki Tollgate. The dead lady was wrapped in Nigerian flag. However, a Facebook user was quick to point out to Yemi Alade that the photo was from a drama marking Nigeria's independence anniversary. The drama was titled "Heal our land, OH LORD!"
The celebrity has since deleted the post, but users have captured screenshots. See here.
Oke
Oke was said to have been killed by a stray bullet, hours after posting "" on his Twitter account. Revelations by his younger brother said Oke was killed by hoodlums who invaded their home. He confirmed that his brother died protecting him and his mother.
However, days after the alleged massacre, all the people whose names and pictures have been published turned out to be false or they died from a different event. More than 48 hours after the alleged massacre, no family has complained to security agencies or published the death of a loved one.
Dateline Nigeria reported that no corpse was seen, and there were no signs of bloodletting on the premises where the alleged massacre took place. There is no physical evidence that there was a massacre.
A security analyst who spoke to Dateline Nigeria said, "From the information we have seen so far, there is nothing to suggest that anyone was killed at Lekki Tollgate. The footages showed men in uniform shooting into the air to disperse the protesters. We didn't see bodies dropping or corpse on the floor."
He added, "Most of the photos and videos on social media have been debunked as false. Videos of military operations have been edited, adding the voice of EndSARS protesters.
"Pictures from drama were used. In fact, one of the videos that showed soldiers shooting was so fake that the sound and flashed (from gunshots, edited effects) were not matching."
Dateline Nigeria concludes that based on the information currently available in the public domain, there is no evidence to prove there was a massacre or mass-murder at Lekki Tollgate.