Sports
Stephen Curry leads Golden State to 4th NBA title in 8 years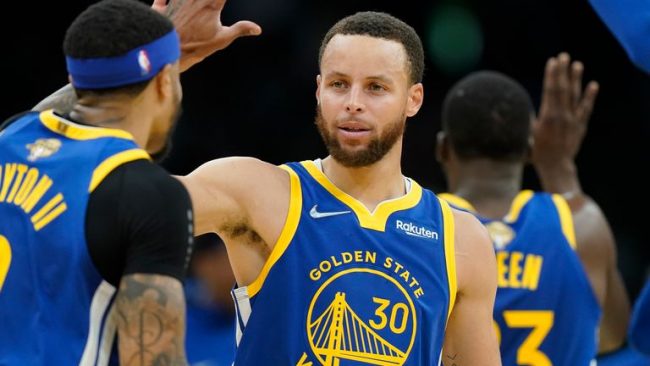 Warriors beat Boston Celtics in Game 6 of Finals
For the fourth time in the last eight years, the Golden State Warriors are NBA champions after coming away with a 103-90 victory over the Boston Celtics in Game 6 of the NBA Finals at TD Garden on Thursday night.
After falling behind 14-2 to start the game, the Warriors ultimately took control of things thanks to a 30-8 run that stretched from the end of the first quarter into the second.
While the Celtics were ultimately able to cut the deficit to single digits in the fourth quarter, Stephen Curry and the Warriors were not going to be denied another championship as they seemingly had an answer for every run Boston made down the stretch.
In the end, Curry, once again, led the way for Golden State on the offensive end finishing the series-clinching win with a team-high 34 points, seven rebounds and seven assists adding yet another chapter to his already storied career.
The rest of the Warriors offered Curry plenty of help as Andrew Wiggins, Jordan Poole, Draymond Green and Klay Thompson all scored in double figures as well.
On the other end, the Celtics were led by Jaylen Brown who did all he could with 34 points, seven rebounds and three assists but, unfortunately for Boston fans, it wasn't enough to extend their season one more game.
Going forward, the Celtics' front office will need to figure out a way to push this group over the hump but tonight is all about the Warriors extending their dynasty.
Steph Curry highlights
Steph Curry closed things out in style, dropping 34 points, seven rebounds and seven assists on the Celtics in Game 6. He shot 12 of 21 from the field, including 6 of 11 from 3-point land, and hit a number of ridiculous shots. Here's a look at his full highlights.
Kerr calls this title a "crowning achievement" for Curry
Every title is great, but this one felt extra special for the Warriors after what had transpired over the past few seasons. Given Kevin Durant's departure and all the injuries they've dealt with, there was no guarantee they would even get back to the Finals with this core. Now, they've won a fourth ring in eight seasons.
And while head coach Steve Kerr was happy for everyone, he had a special acknowledgement for Curry:
"I've said it so many times, Steph reminds me so much of Tim Duncan. Totally different players. But from a humanity standpoint, talent standpoint, humility, confidence, this wonderful combination that just makes everybody want to win for him."
"So I'm happy for everybody, but I'm thrilled for Steph. To me this is his crowning achievement in what's already been an incredible career."
Udoka wants Tatum to learn from defeat
Jayson Tatum had some spectacular moments during this playoff run, but he struggled during this series — especially with turnovers and finishing at the rim. A hurt shoulder obviously didn't help matters, but he simply wasn't good enough. Celtics head coach Ime Udoka wants Tatum to learn from this defeat:
"You're an All-Star, All-NBA First Team guy for a reason. This is only the start of how you're going to be guarded and the attention you're going to draw."
"For him, it's just continuing to grow and understand you're going to see this the rest of your career. This is just a start. The growth he showed as a playmaker this year and in certain areas, I think this is the next step for him. Figuring that out, getting to where some of the veterans are that have seen everything and took their lumps early in their careers." (cbssports.com)