News
Special Report
SPECIAL REPORT: Divorce, depression, death: How child traffickers ruin parents' lives in Kano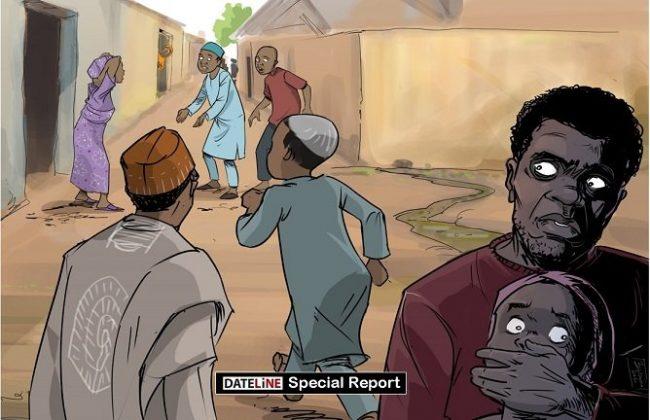 For a few seconds, Zainab Abdullahi Giginyu had her back to her 2-year-old daughter, in their home in Kawo quarters. When she turned, Ummulkhair had disappeared without trace.
It was a short distance from where the toddler was seated – eating – to the line where the mother had gone to dry clothes.
It would be unimaginable to think something sinister had happened in such a-twinkle-of-an-eye moment.
The thought that Ummulkhair's older siblings were at school that Friday morning, which meant she could not have strayed with them, compounded the puzzle for the mother.
It happened so quickly that she needed to unravel it fast.
Then she thought she had a clue.
"I went into the room to see if she had gone in to take a nap," she remembered her situation that minute, hunting for any lead, "but she was not there."
"I dashed out shouting her name 'Ummulkhair, Ummulkhair, Ummulkhair' but there was no answer so I ran out of the house, asking anyone that I could find around if they had seen somebody taking a little girl away. But nobody said they saw anything," Zainab recalled her daughter's mysterious disappearance in 2017.
Extended family members, friends and neighbours went all out in search for the little girl for days without coming close to a useful lead.
At the mercy of kidnappers
Strewn with rutted and dusty roads, narrow streets and open drainages, Kawo is a choice neighbourhood for many a low-income earner in Kano State.
Residents here, who were no strangers to activities of petty criminals, drug merchants and violent thugs, fighting turf wars, saw all these evil being displaced and overtaken by Boko Haram, when it came on the scene in 2009 and took charge.
The insurgents trailed and shot security officers within its labyrinth of streets and forced the only police outpost complementing the security of the densely populated community to close.
As Boko Haram receded, residents awoke to a new challenge of child kidnapping.
At the time Zainab's daughter went missing, suspected child traffickers were deeply entrenched in cells around her neighbourhood and adjoining areas, like Tinshama, Haye, Hotoro, Yankaba and Dakata quarters.
Those places too were brimming with cases of missing children, believed to have fallen victims to traffickers.
Before the state government's Commission of Inquiry that was set up in October 2019, investigated "the disturbing scenario", over 100 kids had gone missing with 80 per cent coming from those areas.
In its report that was seen by this newspaper, the commission "discovered… that children were kidnapped at such tender ages of 3-5 years" from 10am to 12pm on Fridays and 80 percent of the kidnapping occurred between 5pm and 8pm.
According to the report, testimonies of witnesses showed that a total of 12 children got missing while on errands, 16 while on their way to or from school, 28 while playing with peers, 12 in the comfort of their homes and three during festivities.
A total of 42 other persons, comprising both children and adults, disappeared under circumstances described as runaway/broken homes, mental issues, during fire outbreaks and those that were "unclear".
It also found parents negligence, reproductive health challenges on the part of alleged buyers of kidnapped children, desperation to acquire wealth and an inordinate "quest for supremacy resulting in rituals", among others, to be the causes of missing persons in the state.
No child, no health
Ummulkhair is Zainab's last born and the two were very close. Therefore, it was not long before her mysterious disappearance started taking a toll on the mother. Within a short period of time, her life went through a downward spiral to be worsened by a divorce, mental breakdown, loss of memory and nightmares.
When her husband returned home after the day Ummulkhair went missing, he pushed all the blames at her.
"You know how men are, they will always want to blame the wife of being negligent when there is an issue," she said, explaining how her marriage crumbled under the weight of problems related to their missing daughter.
"My husband accused me of carelessness which he said was responsible for the missing of our daughter. He forgot that the way it happened to me, inside our house, could have been anybody. From then on, we started having problems and the marriage inevitably crashed," she recounted.
Her problems continued to multiply and she started showing symptoms of depression.
"I was born and brought up in Giginyu but if I go there today, I will miss my way to places and streets I used to know very well. I can discuss an issue with you now and when you raise the same issue seconds later, I will find it difficult to remember ever having such a talk with you. And I became edgy," she narrated.
When she sleeps, Zainab says, she will dream that her daughter has been found at a particular place with a definite address. She will be happy about the news and make preparations to go bring her home. But suddenly, she will wake up in the middle of the night and realize that she had only had a dream – then she gets moody.
"My mum had a heart attack and died because of the incident of our missing daughter and my father was having his breakfast one morning when he slumped. He now lives with paralysis," she said.
In the middle of her predicament, she found an association of parents of missing children and joined. She was made its women leader.
The group, first and foremost, believed that the rampant cases of missing children in the state was the work of child trafficking syndicates and the authorities were foot-dragging on it because they were unwilling or uninterested in solving the problem.
"The circumstances under which the children got missing also support our suspicion that they were abducted," the secretary of the association, Shu'aibu Ali Ibrahim, popularly known as Tajiri, said.
Over the years, cases of missing children are reported to the police, village heads and ward heads and after one or two days the children are found and brought back home.
"In our own case, we never get to hear about the children ever again after many years. That was why we concluded that the incidents are not normal; some people must be behind it," he said.
With most of the children taken along the conurbation of Hotoro, Kawo, Tinshama, Haye, Yankaba, Dakata and Gama quarters all in the eastern flank of a single metropolitan local government, Nassarawa, they were sure some kidnapping ring or syndicate was on the loose prowling for kids to kidnap.
Their suspicion about such areas marched the ones in the Commission of Inquiry's report.
The suspected traffickers almost always leave behind traces that expose a regular pattern in their activities. Children were either taken outside their homes, inside, playing in the street, walking from school or mosque, the group observed.
Tajiri, together with other parents, founded the association after his two-year-old son, Isma'il, was taken on December 12, 2016.
The commission took a special note of the year as "the most notorious year in which kidnapping of children and other persons was rampant in Kano."
Tajiri's child was last heard crying after his elder brothers refused to take him to the mosque for evening prayers.
"When he went silent, the mother, who was in her room, assumed that his brothers had returned home. After she did not see the little one, she asked and they told her they did not go out with him," his father, Tajiri, narrated.
By his father's recollection, six other children got missing around the same period Isma'il disappeared.
"Because he was a little child who could hardly walk out of the house by himself, we felt strongly that he was abducted," the father said.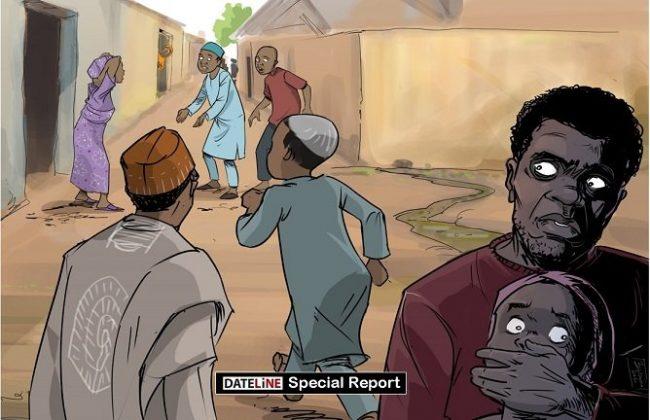 As the cases of missing children in the area piled up, affected parents started having health challenges and suffering stigmatization from members of their communities.
Neighbours' attitudes changed towards them and they were looked at as though something ungodly has happened to them. "We realized that they were keeping a distance from us and would not relate with us as they would do before those incidents," the secretary said.
More deaths among parents
The daughter of the first chairman of the association, Isa Hassan Alhassan, also went missing after she was last seen at their home just across the road at Haye from Hotoron Tinshama where Tijiri's child was last seen.
"He (the father) developed a heart problem and was operated upon. Whenever I visited him at the hospital, shortly before he died, he would ask me: 'Secretary, any update on our missing children? Have they been found? Has anything been done to get them back?' We would calm him down, telling him that the children had been found and were being brought home. He died with that pain in his heart. It killed him," Tajiri said.
Close to home, a sickness 'caused' by the unknown fate of Tajiri's missing son, cost the life of his father in-law. The boy was named after the in-law's younger brother and they got very close and bonded well. "Sadly for him, when the news reached him that his brother's namesake had gone missing, he took ill and died," he said.
The boy's mother has been avoiding radio so that no issue of kidnapped children will come to her knowledge and cause her a relapse after recovering from fits of ailments she had been through after Isma'il disappeared.
The husband alone attends all meetings for the missing children because allowing her to mingle with other parents, who are equally victims, can "make her fall sick for the whole day".
A total of 118 'kidnapped children' are on the list of the association.
Three parents have so far died while two others have suffered paralysis due to the trauma they went true after their children went missing, according to Sadiya Adamu Aliyu, a lawyer and deputy chairperson of K-9, a Kano-based NGO that renders free medical and legal assistance to the parents.
"In addition to those that died or got paralyzed, some of the parents were sent to the psychiatric department of the AKTH (Aminu Kano Teaching Hospital) because the trauma was much on them and they needed counseling and treatment at the same time," she said.
"About 98 percent of the 118 parents are not living in peace as couples," she added, "because the fathers put the blames for the missing children on the mothers while the mothers see the incident as the fault of the fathers and the society blames both parents." As a result, five families divorced, she said.
"The simple thought of my child is no longer with me, has caused health issues for many of the parents. Almost 70 percent of them have been diagnosed with High Blood Pressure, some of them have diabetes and others suffer psychological problems," she disclosed.
At a seminar for the parents, the NGO succeeded in getting two parents to agree to get back together "because they realized what they did was wrong and would not solve their problem".
The Kano State government, Sadiya claims, is not taking care of the parents as it should. "The government does not pity them," she charged.
"I want a situation where government would give a special consideration to the parents whose children have not been seen because they are in real pain. If you are not one of them, you cannot feel the pain they are feeling," she asserted.
The Permanent Secretary for Special Duties in Kano, Alhaji Musa Yahaya Bichi, who coordinates government's handling of the missing children's issue, admitted that the parents could have such problems but held that none of it was brought to the knowledge of the state government.
"At the Commission of Inquiry's sitting, nobody came with psychiatric or any other case. Nobody came to us with such complaints after the commission's sitting. If they come, government with look at it 100 percent," he said.
DNA, pictures, prayers …
Zainab was visibly overwhelmed with joy when she first spoke to us in January. Every now and then a smile, broad enough to bury the sores of a deeply wounded soul, flickered across her face. "She will be returned to me tomorrow," she quipped with an undiluted optimism.
She held her phone up to show a picture of a young girl and from under her hijab, she brought out an old picture of another girl, obviously younger than the first one. "The pictures are of the same person who happens to be my daughter," she said. "The first picture was taken four years ago and the second one is just a few days old."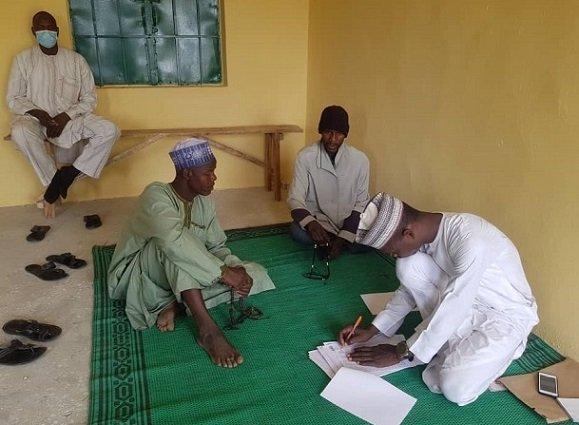 If the pictures turn out to be of the same person as she has claimed then her daughter, Ummulkhair, would be on her way back home.
About a week earlier, the police in Anambra State recovered 11 abducted children and handed them over to Gombe for possible reunion with their parents. Four children have been successfully reunited with their families.
The news sparked an interest in Kano and the state sent a delegation to Gombe, comprising the permanent secretary, a senior police officer and the chairman of the association of parents of missing children to bring back home those who may be from the state.
While in Gombe, the team sent pictures of the unclaimed children back to Kano. With the images, Zainab, for the first time in many years, was so sure she has seen her daughter again.
"After she got missing, I believed I was never going to be happy again in my life, but thank God the children are being recovered," she said at the prospect of being reunited with her Ummulkhair. "We hope all the 118 children that have been kidnapped will be found."
The "posture" of one of the girls in the Gombe photos and the facial resemblance, she said, were no doubt that of her missing daughter. "If you look at her face in the picture, you will agree that she looks like me," she said as she displayed the image again with a glee. "When I showed it to people and asked them to check if it is Ummulkhair's, all of them were unanimous that she is the one. Her old picture was compared with the one from Gombe and they said she is the one in both pictures."
Unfortunately for Zainab and other parents who waited for the return of their children from Gombe the next day, there were competing claims on the children from different parts of the country by parents whose children were also allegedly abducted.
Six other states, among them, Gombe, Bauchi, Delta and Zamfara, equally came forward with claims that clashed with those of the Kano parents on the children, according to Yahaya Bichi.
The best thing, therefore, that the police in Gombe could do was to send the children back to Anambra State police command where the claimants would go and present their proofs and claim them.
The police in Anambra, in turn, gave a condition that only when DNA test confirms the paternity claims of the parents will they hand over any child to the claimants.
For the second time, the state government dispatched a delegation to Anambra and sponsored 18 parents to go with them, to identify their children.
The team took along DNA experts that it hired from Kaduna State. "For each sample they collected, they charged N100,000, which the state government paid," Yahaya Bichi said.
While there, Zainab came face-to-face with the girl she saw in the photograph and believed was Ummulkhair.
"I wanted to be sure she was the one, so I went for a mark that was to be a banker."
When Ummulkhair was younger, she had measles and was injured by a needle while taking treatment. The injury left a scar on her buttocks.
"I thought that was never going to go away but on I inspecting her, I did not see the mark. I then began thinking she was not the one all along.
But from home, family members urged her not to drop her claim, as scars on babies hardly grow with them into adulthood.
"I also noticed that they used a lot of skin lightening cream on the children and that could have cleaned the mark off," she consoled herself.
Coincidentally, two other parents on the trip came to the conclusion that the girl Zainab was eyeing as her own was theirs too.
While the child was known to her as Ummulkhair, a male parent on the trip, Malam Mu'azu Ibrahim Hotoro, recognized the girl as the child he named Ruqayya, who was abducted at the age of three and has been missing for four years. Another mother, Zahra Ali, identified the same girl as the daughter she called Rufaida until she disappeared under mysterious circumstances four years ago when she was two-and-a-half-years old.
In a chat, Ibrahim Hotoro recalled that Ruqayya was with him outside their Hotoro residence when he started his tricycle to leave and she waved him good bye. "She was not seen again since then," he said.
But in Anambra, he saw a girl that fit his memory of his daughter. "She had measles and it left a black spot on her mouth. The spot is still there. Her big eyes, bowlegs and thumbs pointing outwards, were unmistakably present, when I saw her," he said.
For Zahra, her daughter was abducted during evening prayers at Tinshama.
"She looked like my daughter. She did not recognize me though, but her body looked so much like her and she was fair in complexion," she said about the girl she saw in Anambra.
Zainab, Ibrahim and Zahra now await the result of a DNA test, sponsored by the Kano State government to determine the biological parents of the child.
Nine other parents, who went to Anambra from Kano and took the test to resolve their competing claims on some of the children, are waiting for the results as well. They were told it would last six to 10 weeks.
On February 28, members of the association gathered at a primary school in Kawo, to meet and pray. It is a tradition they have kept for years, to converge every last Sunday of the month to discuss and update themselves of developments around their common plight.
Maryam Abubakar and Shamsiyya Musa sat close to each other at the meeting. They became friends after joining the association with the hope of finding their missing daughters.
After the Gombe pictures, the two parents saw a girl they each claim is their daughter. Maryam calls the girl Aisha and Shamsiyya calls her Zainab.
They laughed at the irony of being good friends and now struggling for one child.
It is not yet time for them to take the DNA test because the girl in question was taken to Asaba in Delta State after the children's return from Gombe.
Over 100 parents, most of them ill, still have no idea where there children are.
Justice at last?
When Paul Owne was re-arraigned alongside six other accused persons before a Kano State High Court on March 12, 2020, he pleaded guilty to charges bordering on child kidnapping and the judge adjourned the case for sentencing. All the other accused persons pleaded not guilty.
Paul's arrest in 2019 became the turning point in the child trafficking saga that bedeviled the state.
"All our efforts failed to convince the authorities that such a heinous crime was taking place. They failed to get them to act. But after Paul was arrested and nine children were recovered, everybody started believing us," Tajiri recalled.
"If all that long that we were shouting about some people kidnapping our children the authorities had acted, the perpetrators would have been stopped before the number of the victims ballooned to what it is now and more children would have been recovered by now," the chairman of the association, Isma'il Ibrahim Muhammad, asserted.
Yahaya Bichi agreed that parents who testified before the inquiry made complaints about "not getting the needed attention that the cases should get when they reported them to the authorities".
The permanent secretary disclosed that the team would soon embark on another trip to Anambra, Rivers and Delta states to recover more 'kidnapped' children, possibly.
On April 25, Owne, the man who admitted to kidnapping and selling of children where their religion and ethnicity were changed, will know his fate.
Even after that, many parents will be waiting for justice. For DNA results. For cure to their ailments. And for answers to their prayers
NEXT IN THE SERIES:
The heartrending story of a woman, who was abducted at the age of three, converted to another faith and married off at 13.