Opinion
Sanusi: The excesses of deposed Kano emir in Kaduna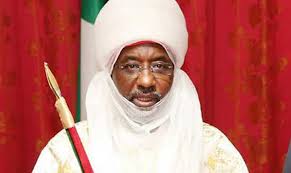 So the erstwhile Chief of Staff to Kaduna State Governor, Mohammed Sani Abdullahi, was sent back to his former post at the Ministry of Budget and Planning for simply referring to Muhammadu Sanusi II as former Emir of Kano.
I don't want to bore you with the details as a video to that effect is still making the rounds on WhatsApp groups and other social media platforms. It will soon reach the turn of your group to receive it – if you haven't already done so!
For those yet to come across the video, this is what it contains: The former chief of staff, while acknowledging dignitaries at a recent function, made the mistake of not only referring to Sanusi as former Kano emir, but also recognised him after the Emir of Zazzau Amb Ahmad Nuhu Bamalli.
Tellingly, rather than correct the chief of staff in private, Sanusi did otherwise. "When I listened to the…. I will call him the former chief of staff and you will understand why later. Next time don't call me former emir. There is nothing like that," Sanusi said at the event.
Also by this writer: What does ex-Kano emir Sanusi want in Kaduna?
True to the former emir's threat (I know he will now refer to me as a former writer), El-Rufai redeployed Abdullahi away from the office of the chief of staff in his latest cabinet reshuffle.
My take in this little piece is the sheer audacity of Sanusi, who is not just a former Emir of Kano, but a dethroned, deposed, dumped and disgraced one at that, to try to change the course of history.
As far as I am concerned, the former Chief of Staff was even magnanimous and too generous in his description of Sanusi, who is now running from pillar to post all in an attempt to show the world that disgracing him out of the throne he so coveted is nothing to him.
But the developments since them have shown otherwise. Sanusi is still nursing his wounds. In fact he is even holding court in someone else's domain.
All this is happening because Governor Nasir El-Rufai has chosen politics over what is right and honourable. Only recenly, the governor ignored Emir of Zazzau Ahmad Nuhu Bamalli in line of protocol and recognised Sanusi instead. And this is at an event happening in the domain of the Zazzau monarch.
Many people of kaduna will never forget the day El-Rufai, who is always mouthing the need to save resources, approved a donation of millions of naira from the state coffers to the birthday celebration of Sanusi.
Unfortunately, what the governor is doing is not a show of love, he is only setting up Sanusi for another round of humiliation by the time his tenure expires on May 29 2023.
No governor after Nasiru El-Rufai will put up with Sanusi's excesses, none! So the sooner the former emir and his governor friend realised this the better for all of them.
Imrana Danlami lives in Tudun Wada, Zaria