Politics
Nasarawa gov receives political decampees
Nasarawa State Governor Engr. Abdullahi A. Sule has formally received thousands of decampees from opposition parties the Peoples Democratic Party (PDP), the All Progressives Grand Alliance (APGA), Zenith Labour Party (ZLP), Social Democratic Party (SDP) to the All Progressives Congress (APC). 
Halmarks of the event marking the reception included among other things; donation of 5 brand new Sharon Space Buses to the 5 Local Government Areas Officials of the All Progressives Congress in Nasarawa West Senatorial Zone (Keffi, Nasarawa, Karu, Kokona and Toto) by a former Member, House of Representatives, Hon. Ahmed Aliyu Wadada.
The former lawmaker, Hon. Ahmed Aliyu Wadada (Sarkin Yakin Keffi) handed over keys to the buses to Engr. Abdullahi A. Sule, the Nasarawa State Governor for onward delivery to Party Officials.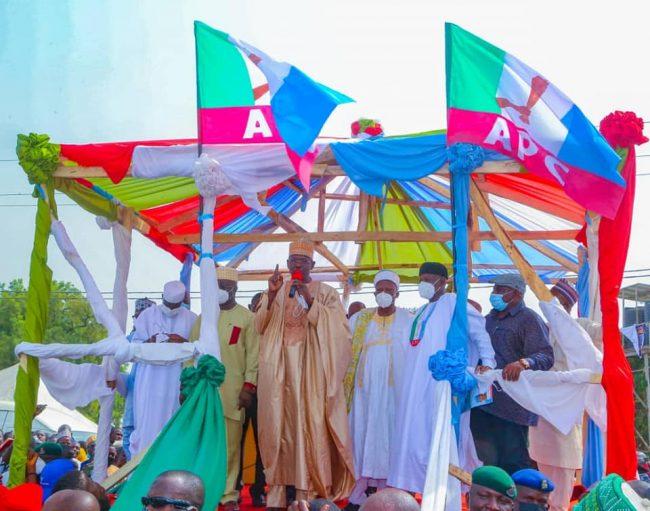 Members of the All Progressives Congress, Nasarawa West Senatorial Zone also reaffirmed their endorsement of Engr. Abdullahi A. Sule as their sole candidate for governorship race come 2023 in view of his unparalleled achievements in all spheres which they wish be consolidated upon his return.
Hon. Mohammed Sani Otto, the Nasarawa Local Government Council Chairman welcomed all decampees from Nasarawa Local Government Area; Hon. Ahmed Musa Mohammed, former Speaker, Nasarawa State House of Assembly, Hon. Ahmed Bala Tafida, former Commissioner of Works and Finance, Hon. Mohammed Baba Ibaku, former Member, Nasarawa State House of Assembly and many others too numerous to mention. The Nasarawa Local Government Council Boss further enjoined them to work in line with the ethics of the All Progressives Congress which has brought about dividends of democracy and promoted peace and unity.
Governor Abdullahi A. Sule on his part called on members of the ruling Party to continue to uphold unity of purpose which has characterized the Party over the years, and which he believes endeared the new decampees to join the fold of the Progressives.
Reiterating his commitment for secured Nasarawa State, the Governor appreciated President Muhammadu Buhari for the support given to the State consequent upon which security related challenges are being attended to.
Engr. Sule charged new and old members to register their membership of the APC and to continue to support the noble cause of his administration to bring about desired development. He added that more decampees are underway.