News
KASU management denies shutting down school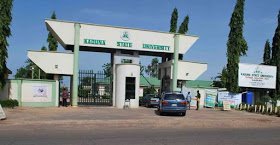 The Management of Kaduna State University has urged staff, students and the general public to ignore the news in the social media that the institution had been shut down. 
The management in a statement signed by its Public Relations Officer, Adamu Nuhu Bargo, said it is fake news in its entirety as well as the handiwork of mischief makers.
"Academic activities are in progress," the statement added. 
The management urged everyone to carry on with their legitimate endeavors as it is partnering with security agencies to ensure the safety of all and sundry.
Dateline Nigeria reports that an unsigned letter had been making the rounds purporting that the management had shut down the school to forestall breakdown of law and order as the students have vowed to continue protesting, until the government revert or reduce the tuition fee.
According to the letter, "The decision to shut down academic activities at the school was taken after a brief management meeting on 5th June, 2021 following the receipt of a letter addressed to the Vice Chancellor from the Student Representatives Assembly (SRA) dated 4th June, 2021.
"In the letter the SRA dissociated itself from any form of further student protest as the SRA cannot control the action of the students anymore.
"The letter was signed by Abubakar Buhari LONDNA, Chairman Faculty Presidents Forum and Mohammed MUSA, Secretary Faculty Students Forum," it said.
It would be recalled that the protesting students had met with the representatives of the state government consisting of the Deputy Governor Hadiza Balarabe, Secretary to the State Government Abbas Lawal and Chief of Staff Muhammad Sani Abdullahi where they were told to go back and explain the government's position to their colleagues.