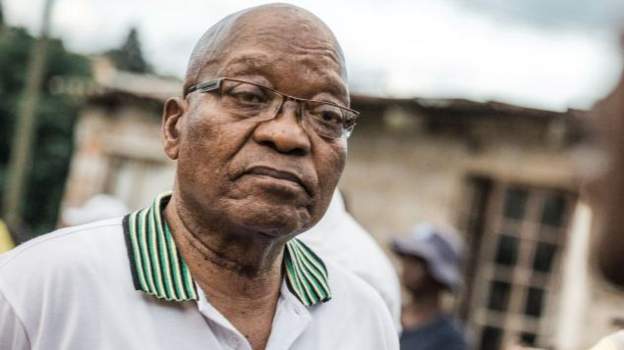 Former South African President Jacob Zuma on Saturday rejected a recent report that found him guilty of plundering state resources during his tenure.
Addressing a media briefing in Johannesburg on behalf of the former president, Zuma Foundation spokesman Mzwanele Manyi said Zuma rejected the "State Capture" report and views it as unlawful.
Read Also: South Africa's anti-corruption chief accused of political bias, suspended
The report, which was published by a government-established judicial commission of inquiry known as the State Capture Commission, was the fruit of "a poisoned tree. It was wrong from the start," Manyi said in the presence of Zuma's legal team.
He said Zuma had asked Judge Raymond Zondo, who headed the State Capture Commission investigating corruption during Zuma's nine years in office, to recuse himself but that he refused.
Manyi accused the judge of having a bias against Zuma.
He said former President Zuma instructed his legal team to report Zondo, the newly-appointed chief justice of South Africa, to the Judicial Services Commission for investigation.
Zuma's lawyer Dali Mpofu said the former president could not attend the media briefing because of his parole conditions which barred him from attending gatherings unless at his place of residence.
The 80-year-old former president was arrested in July last year after he refused to appear before the State Capture Commission and was jailed for 15 months.
He was, however, released two months later on medical parole.
Zuma is accused of enabling friends, especially three Indian-born businessmen known as the Gupta brothers, to influence officials in granting them lucrative state contracts and taking control of most state operations and finances.
He claims innocence and denies these claims.
Earlier this month, South African authorities confirmed that two members of the wealthy Indian Gupta family accused of defrauding the country have been arrested in the United Arab Emirates (UAE).
Rajesh and Atul Gupta were arrested while the third brother, Ajay Gupta, who is also on Interpol's wanted list, is still at large.
The brothers, who enjoyed close relations with Zuma, fled South Africa for Dubai with their families shortly after Zuma resigned in 2018.
The Ministry of Justice and Correctional Services said discussions between various law enforcement agencies in the UAE and South Africa are underway to have the fugitives returned to South Africa. (Anadolu)