News
Facebook posts of arrested Kaduna 'kidnapper': How he preached what he didn't practice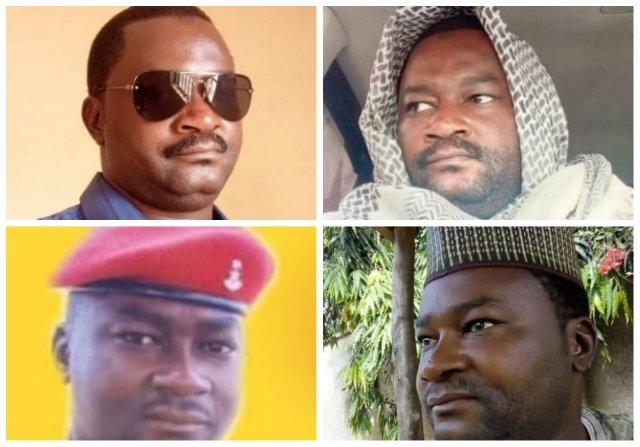 Facebook posts by a kidnap suspect, who was nabbed in connection to the abduction and murder of a young victim, reveal that he was not only popular on Facebook but was also constantly posting different aspects of his personal and social life.
While on some occasions, he took to preaching about virtues, on others, the suspect admitted his vulnerability by asking his friends to pray for him as he embarked on a journey to Kaduna State, apparently afraid not to fall a victim of kidnappers tormenting travelers at the time.
Early Saturday morning, a video of the arrest of SA Galadima, who is being accused of kidnapping a son of his neighbour and subsequently killing him after collecting N5million ransom, went viral on social media, with many identifying the suspect as one of the earlier callers to the residence of the boy's father to sympathize with him over the incident.
Galadima, who was in his nightshirt in the video, confessed to taking part in the killing of the boy "because he identified Nazifi (one of the kidnappers).
He told his interrogators that he held down the boy and Nazifi strangled him.
The news of his arrest elicited torrents of reactions online, with many social media users accusing him of betraying the trust of his neighbour, whose child he allegedly kidnapped and killed.
A check on the suspect's Facebook page shows that in addition to being an active user, he has been into so many things at different times.
Soldier, politician
While it is difficult to tell if his claim is genuine, the suspect describes himself on Facebook as a Senior Non-Commissioned Officer (SNCO), which is any rank in the military that is below the rank of a commissioned officer and above that of a Non-Commissioned Officer (NCO).
As if to back his claim up, he shared his pictures donning army camouflage with red beret and muffler, depicting him as a military police personnel.
In other posts, the suspect gives the impression of an avid political stalwart rooting for some Kaduna politicians. This is discernible from their pictures and those of their political outings he splashes on his wall, with accompanying prayers for their success.
Criticized wearing of face masks
When COVID-19 struck and forced the wearing of face masks, Galadima did not take it lightly with government officials imposing the policy, at least in his Facebook comment.
He wrote: "Am very disappointed with what I saw this afternoon, useless presidential task force arresting innocent Nigerians on the streets for not wearing face mask. Virus that is not in existence in Nigeria. I call it COVID-419."
Posted on arrest of kidnappers
One of his posts reads: More "Fulani Herdsmen" arrested in Ogun State for kidnapping!
When a former Jibia Local Government chairman in Katsina was arrested and paraded for allegedly "aiding bandits" in the state, Galadima posted the story and promised to provide an update to his followers.
Fake news
He also joined in the circulation of the rumour of the purported appointment of AIG Zannah Ibrahim as the new police IG in February.
"Congratulations. Oya let The Wailers begin wailing," he posted.
His life's philosophy
The suspect also has his own idea about how people should go about their life if they want to reap its benefits to the fullest, and that he shared with his friends in Hausa.
"Your approach to life determines what it gives you in turn.
"Firstly, no matter how good you are, you will be treated badly.
"Secondly, you either rid yourself of your bad habits, or they get rid of you.
"Thirdly, whatever happens to you in life can never stop the world from moving on.
"Worldly possession is not the ultimate. Integrity and fear of God is the ultimate because when we leave worldly possessions, we go and meet God. And we see it happen to people around us – just before us."
He finally stated that if people would adopt the philosophies, they will live a peaceful life.
A kidnapper's fear of being kidnapped
Even though he has confessed to the killing of his neighbour's child, the suspect appeared to enjoy the company of his own children, something he consistently showed off in his photo posts.
Like his victims, he was also aware of his vulnerability to the spate of kidnappings ravaging the country, so that when he was embarking on a trip to Kaduna in 2020, at the peak of the menace of kidnappers along the route, he posted it on Facebook, obviously soliciting for prayers as road users were wont to do around the same period.
As soon as he arrived his destination, he gave and update: "Alhamdulillah. Thank you for your prayers. I am now in Kaduna with my family and friends."
His soft spot
After his mother's death in 2020, he posted this to mark the 40 days of her demise. "Forty days without you my mom. May your gentle soul continue to rest in jannatul firdaus."
"No need to cherish luxuries"
In October last year, the suspect shared this music: "No need to cherish (cause everythin' come and go)
"Even the life that you have is borrowed (cause you are not promised tomorrow)…."