News
El-Rufai's bridge: Construction firm fixes damaged part of project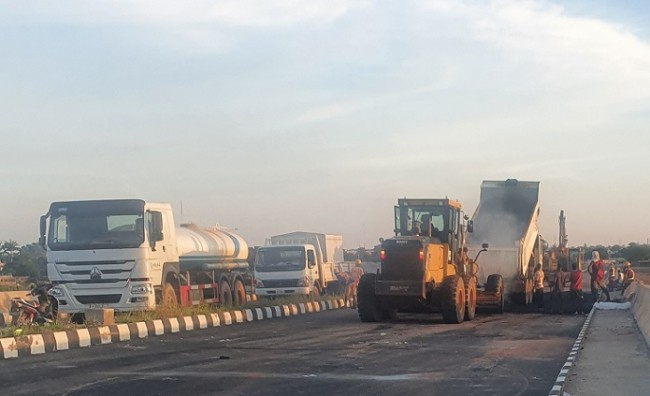 Settlement occurred 150m away from bridge deck, KADRA says
Repair works have commenced to fix the damaged part of the Kabala Costain to Barnawa link road along with a bridge over River Kaduna which is being constructed by the El-Rufai administration.
Dateline Nigeria had exclusively reported how cracks appeared on the road leading up to the 230m long bridge over the river, raising questions about the quality standard of the project.
Our reporter who visited the construction site on Thursday observed Chinese and Nigerian workers busy fixing the cracks. A trench was also dug on the Kabala end of the project to stop pedestrians and motorcyclists from using the road while work in ongoing.
One of the workers spoken to at the site said the problem was a major one, adding that "it did not compromise the integrity of the work we did.
"If you had come earlier you would have met the Administrator of Kaduna State Capital Territory Authority, Hafiz Bayero, who came here to inspect the repair works.
"He demanded to know why the problem occurred and he was appropriately briefed by our engineers. I believe he was satisfied with explanation given to him."
Dateline Nigeria reports that the contractors had earlier left the site, thereby stalling the project
Meanwhile, the Kaduna State Roads Agency (KADRA), which is responsible for the construction, repairs and maintenance of state roads, has said that the bridge being constructed by the El-Rufai administration is intact.
The agency, which posted a video of the bridge project on its social media handles, said "the settlement occurred farther away from bridge about 150m from the bridge deck."