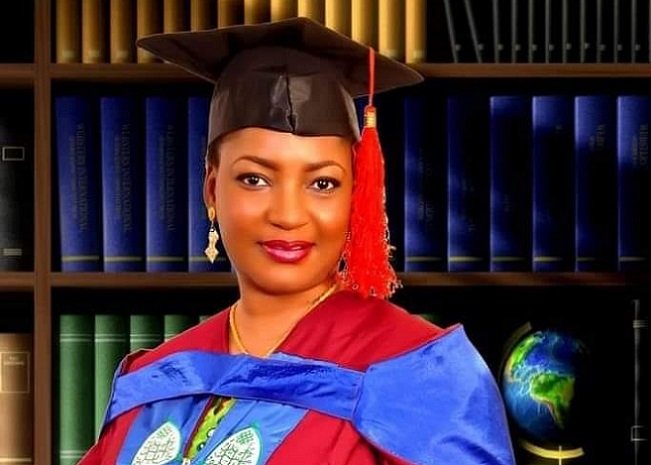 A Senior Lecturer with the Ahmadu Bello University (ABU) Zaria, Dr Maimuna Aliyu Shika, has passed on.
Dr Maimuna, who was with ABU Business School, died on Thursday morning after battling with undisclosed illness.
Her Janaza (funeral prayer) held at 11am at the residence of her father Alhaji Aliyu Muhammad Shika (Wakilin Makarantar Zazzau) in GRA Zaria.
Dr Maimuna's colleagues, students and friends took to the social media to pay tribute to the deceased.
President of Team New Nigeria, Modibbo Yakubun Farakwai, while announcing the death of Dr Maimuna, said "We're very sorry to report that a dearest sister and loyal member here, Dr. Maimuna Aliyu Shika passed away early this morning. She was an extraordinary woman.
"While Maimuna's presence will be missed, her influence continues. She'll be remembered by many who love her, many who learned from her, and many who only know her by her words – but those words, like Maimuna, reach toward eternity. May she rest in peace, in shaa Allah."
Her former colleague and the Executive Director of Kaduna State Industrialization & Microcredit Management Board Mustapha Shitu said, "Ya Allah receive the soul of Dr. Maimuna Shika in the best of manners, forgive her and grant her Jannatul Firdaus. She was truly a dear friend. Allahumag Fir laha War Hamha."
Sanusih A. S. Maikudi said, "May the disciplined and resourceful soul of my sister, friend and colleague Dr. Maimuna Aliyu Shika of the Department of Business Administration ABU Zaria, rest in Aljannah Firdaus, Amin.
"Dr. Maimuna was with us at Kafanchan when her late father Malam Aliyu Shika was a lecturer and subsequently the Deputy Provost of the Kaduna State College of Education.
"Our paths re-crossed through Dr. Bashir Usman Kurfi of the Department of Business Administration Institute of Administration, Kongo Zaria.
"Our Common passion for Entrepreneurship which is the area of her PhD research and my own area of practice and consultancy solidified our friendship.
"We have lost a scholar, a patriot and a faithful sister in her prime but we have no option than to accept the will of Allah. May Allah forgive her short comings and admit her into Aljannah Firdaus."
Mujahid Sanoosi said, "I just received a bad news about the demise of my supervisor, a mentor and as well a mummy to the whole department, in person of Dr. Maimuna Aliyu Shika. I pray to Allah the Almighty in His infinite mercy, to forgive her transgressions, accept her supplications and grant her jannatul firdaus ameen."
Haroon Ahmed Hassan said, "Ya Allah grant her your Rahama in her grave. Dr. Maimuna Aliyu Shika, a Senior lecturer in the Department of Business Administration, A.B.U Zaria. My Lecturer and My Supervisor, indeed I appreciate your mentorship, you treated me like a Junior Brother. Allah ta'ala ya saka miki da gidan Aljannah Firdausi."
Mansoor Abdullahi Mailafia said, "We love you but Allah loves you more. May your gentle soul continue to rest in peace and may jannatul fiddausi be your final home. Dr Maimuna Aliyu Shika has gone!!!"
Dateline Nigeria learnt that Dr Maimuna Shika obtained her PhD in Business Management at Bayero University Kano (BUK), M.Sc Business Administration (Management), B.Sc Business Administration (Management) and MBA at ABU, Zaria. She went to FGGC Zaria.