News
Buhari inaugurates N9.1bn NIS Tech building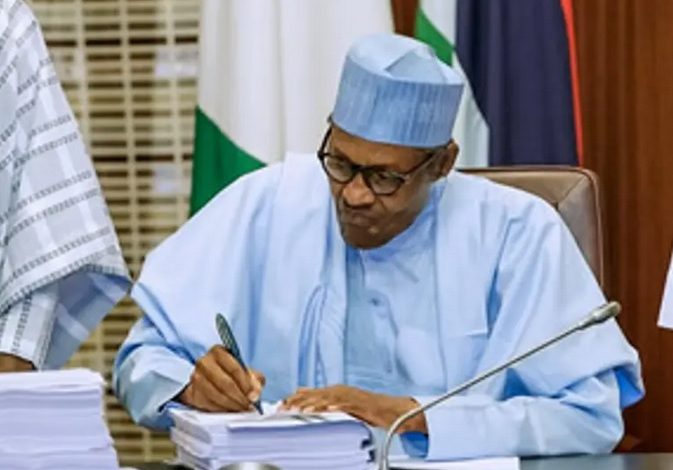 President Muhammadu Buhari, on Thursday in Abuja, inaugurated the N9.1 billion data communication and command centre for the Nigeria Immigration Service (NIS).
The centre, tagged "Technology Building", will serve as a platform for the NIS to synergise with relevant agencies, both local and international, to enhance national security.
Read Also: El-Rufai inaugurates KADIPA board with ex-Kano emir Sanusi as Vice Chairman
Speaking at the event via video link, Buhari said the project was in line with his administration's mandate of formulating and implementing policies to protect the lives and property of Nigerians.
"This administration has been relentless in our desire to create an enabling business environment that will usher in an economic boom for Nigerians and all those doing business in the country.
"It is imperative that our ranking in the global security index has improved.
"And I am using this medium to call on all security agencies to scale up their activities towards achieving this goal.
"I assure you that this administration will give the much-needed support in carrying out your mandates,'' the President said.
He urged NIS to put the facility to optimum use in carrying out its duty of keeping the country's border safe.
The Comptroller-General of NIS, Mr Muhammad Babandede, said the contract for the project was approved by the Federal Executive Council (FEC) in November 2018.
According to him, the first phase of the project was awarded to Julius Berger Nigeria for N7.119 billion.
Babandede said FEC approved the second phase covering furnishing, installation of multimedia and other
equipment, costing N2 billion in December 2020.
"The unveiling of this building provides a unique platform for security agencies to truly synergise and harmonise
efforts under one roof to address security issues, using technology.
"The nature of the building and its robust IT infrastructure makes it a great investment and a huge contribution to global security, particularly with its effective connectivity to special platforms such as the INTERPOL and ICAO PKD/PKI data based.
"We assure the global community that holders of Nigerian passport can no longer travel with a lost, stolen or re-issued passport.
"This information is now available to INTERPOL and ICAO member states.
"In the next few days, Nigerians can use their passport in any airport with e-gate facilities throughout the world,'' he said.
Minister of Interior, Rauf Aregbesola, remarked that the occasion was a dawn of a new day at NIS for border management in Nigeria.
Aregbesola said that in the past, border watchers rely on language, physical look and ethnicity for the purpose of identification.
He added that this required a lot of guesswork and the system was beaten easily with disguise.
"However, the development of photography was a quantum leap in border management as the circulation of pictures of potential troublemakers lead to their arrest and entry denials, though make-up artists could still dance around photographs.
"But with digital imaging and its accessories of fingerprint, retina scan and voiceprint, identity disguise is nearly impossible.
"Also, having a data bank and data processing centre provides access to information at the touch of a button.
"This makes it possible to monitor all entries and exits at our borders and have real-time information on all immigrants.
"This development will have a great impact on our security,'' the minister said.
He assured Nigerians that the security challenges facing the country at the moment were surmountable and "are indeed being addressed.
"Though the concerns are shared but there is no need to despair''.