Sports
Boxing: All set for Oleksandr Usyk and Anthony Joshua rematch in Saudi Arabia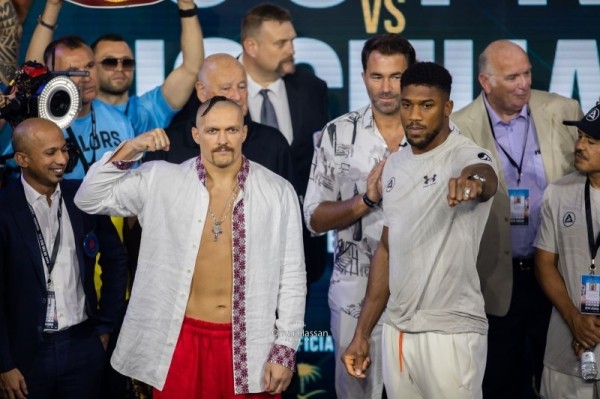 All eyes will be on the bride of the Red Sea on Saturday evening when Saudi Arabia hosts one of the biggest rematches in boxing's history — "Rage On The Red Sea".
The much-awaited return match, which will bring together titleholder Oleksandr Usyk and challenger Anthony Joshua, is considered to be one of the most interesting match people around the world are closely following.
Read Also: Rare drawings by boxing great Muhammad Ali sell for nearly $1m
The event will take place on Saturday, August 20, at King Abdullah Sports City Arena in Jeddah, where a large crowd of boxing fans will be able to watch the match.
The event's activities, which began on Monday, continued with press conferences, public workouts and many more, the last of which was on Friday when the two fighters stood on the scale taking weight.
The fighters stepped onto the stage to cheers from the crowd. Britain's Joshua has stood on the scale first, weighing 110.9kg, and his Ukrainian opponent, Usyk, weighed in 100.5kg.
Usyk was asked about what he saw when he looked into Aj's eyes, he replied "My self", and added "It was the reflection of myself".
While Joshua answered the same question by saying "not much, just a face-off, and I always say, for me personally face-off doesn't mean nothing.
When asked if his higher weight would help him win Saturday, Joshua said, "All the other stuffs do not matter, it's all about the fight, which I'm ready for."
The boxing event will start at 6:00 p.m., with 10 other fights in which boxers participating in the secondary matches will compete,
Among the secondary matches will be the first female boxing event in Saudi Arabia. History will be made when British-Somali professional boxer Ramla Ali and her Dominican opponent Crystal Garcia Nova come face to face before a capacity crowd King Abdullah Sports City on Saturday.
The fight between Usyk and Joshua will start at 1:00 a.m. after midnight, which will be followed by a press conference.