News
51 people killed by bandits for burial in Zamfara today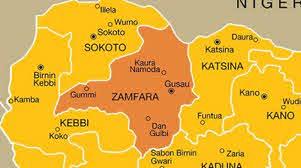 More than 50 people killed by bandits in Zamfara State will be buried today.
An eyewitness told the BBC Hausa service that as at Wednesday evening, they have counted no fewer than 51 dead bodies in different villages of Magami district
The bandits reportedly attacked the victims when they attempted to come to the aid of the people of 'Yar Doka, who just returned to their houses a day to the attack.
The people of 'Yar Doka had sought help from their neighbours after returning to their community in preparation for the farming season.
But the bandits have reportedly vowed never to allow any farming activity in the whole of Magami district which was why they launchedtheattack on Yar Doka.
Reports said the people are still fleeing their houses to Magami, about 18 kilometers away.
Witneases said among those killed are 20 residents of Ruwan Dawa village, 10 in Kangon Fari Mana, six each in Madaba and Arziƙin Ɗa, two each in Mai Kogo, Mai Aya-aya and Mai Rairai as well as one each in Gidan Maza and Kunkelai.
It added that 11 people wounded in the attacks are receiving treatment at a hospital in Magami.
One of the witnesses said the gunmen spent more than seven hours at Kangon Fari Mana and that they received no help from security agencies.
The Zamfara State Police Command said it heard of the attacks, adding that security men have been deployed to the communities.
It said it is still awaiting a full report on the attacks.