News
Zamfara police 'rescue 24 kidnap victims'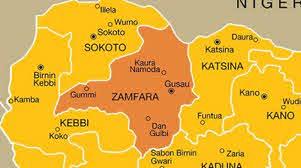 The police in Nigeria's north-west Zamfara state say they have rescued 24 people, including some students and travelers, who were kidnapped from different parts of the state.
Commissioner Ayuba Elkanah said that some of the victims spent more than 60 days in captivity before they were freed.
Read Also: Kokumo steps in as new DIG as David Folawiyo bows out
He added that they were rescued unconditionally.
Among the victims were four students of Government Day Secondary School in Birnin Yero who were abducted while writing their exams and a student of Federal Polytechnic Kaura Namoda.
Zamfara is regarded as one of the hotbeds of kidnapping for ransom and other criminal activities in the north-west region, this is despite reported increase in security crackdowns against armed gangs, known locally as bandits.
More than 1,000 students have been kidnapped from schools and colleges in the region since December last year – many of them were later freed after their relatives reportedly paid ransom