News
Yobe governor deploys Senior Special Assistants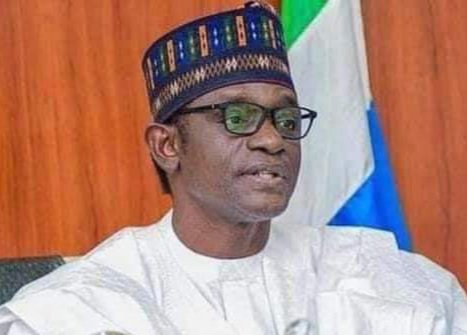 Yobe State Governor Mai Mala Buni has approved the deployments of the following Senior Special Assistant as follows:
1. Ministry of Agriculture
Zanna Waru
Modu Mustapha Boka
2. Ministry of Budget & Planning
Babaji Galadima
3. Ministry of Basic & Secondary Education
Ba Isa Ba Mallum
Modu Dabuwa Democradiya
4. Ministry Commerce, Trade & Industry
Hon. Jamilu Ahmed
Bah Abubakar Majewa
5. Ministry of Environment
Muh'd Sani Gashu'a
Zanna Nguruye
6. Ministry of Finance
Ali Habu Yunusari
7. Ministry of Health
Alh Mamman Bukar Alhajiri
Lefami Kafiya
8. Ministry of Higher Education
Engr. Kaigama K. Bizi
Zanna Mai Kumagannam
9. Ministry of Home Affairs, Information & Culture
Gambo Ibbi
10. Ministry of Housing & Urban Development
Grp. Capt. Buba Kundil
Maina Saga
11. Ministry of Humanitarian Affairs & Disaster Management
Zanna Ali Sumbar
Bulama Usman.
12. Ministry of Justice
Mohammed Chiroma
13. Ministry of Land Solid Minerals Development
Ahmed Usman Bida
Adamu Hassan Churokusko
14. Ministry Local Government & Chieftaincy Affairs
Kaka Yusuf Goniri
Tijjani Dugu
15. Ministry of Religious Affairs
Alhaji Aliyu Yusuf
Adamu Yaro
16. Ministry of Transport & Energy
Alh. Shehu Riga
Zanna Mai Kumaganam
17. Ministry of Water Resources
Alh. Yerima Gambir
18. Ministry of Works
Bako Alh. Sheriff
Aji Kura
Bamai Ali
19. Ministry of Women Affairs
Budu Lawan
Hajja Kellu Goni
20. Ministry of Youth & Sports
Babagaji Zanna Mayori
Extra-Ministerial Departments, Parastatals and Agencies
1. Teaching Service Board
Sale Jarmai
2. Board of Internal Revenue
Muhammed Kolo Jompol
3. Universal Basic Education
Abba Jajere
4. Civil Service Commission
Ibrahim Kandira
5. Local Govt. Service Commission
Hon. Yakubu Ayako
6. Pilgrims Commission
Chiroma Garba
Komfasa Lawan
8. State Independent Electoral Commission
Mohammed Alhaji Isa
9. Assembly Service Commission
Hon. Musa Hamidu Gagure
10. Scholarship Board
Ahmed Dawayo
11. Sports Council
Ladidi Gambomi
12. Hospital Management Board
Ba Umar Goni Umara
13. Science & Technical Education Board
Abdulkarim Gumsa
14. Housing & Property Development Corporation
Ali Maikinta
15. Library Board
Modu Mustafa Fuchimiram
16. Yobe Broadcasting Corporation
Altine Kabiru Kolo
17. Yobe State Television
Alhaji Tijjani Lawan Mamu
18. Council for Arts & Culture
Alh. Goni Gana Mustapha
19. Water Corporation
Ali Dogo
20. Rural Water Supply Agency
Abdullahi Musa Kakumi
21. Fire Service Board
Hon. Nuhu Bulama Gurjaje
22. Yobe Micro Finance
Abdullahi Ngalda
23. Arabic & Islamic Education Board
Shittu A. Nasara
24. Agricultural Development Programme
Hon. Yahaya Alaraba
25. Afforestation Project
Samaila S. Dauya
26. Agency for Mass Education
Muhammed Buba Mashio
27. Rural Electrification Board
Maina Ngurnoma Mustafa
28. Yobe Transport Corporation
Idriss Mai Sale
29. Dofarga Spring Water
Mai Musa Maina Dabuwa
30. Fertilizer Blending Plant
Habu Zanna Sunoma
31. Polythene & Woven Sack Industry
Alh. Ada Ibrahim
32. Yobe State Abbatoir
Alh. Yusuf Dan Wurwa
33. Fiscal Responsibility Board
Babangida Ibrahim Jaba
34. Public Procurement Board
Umar Audu
35. Environment Protection Agency
Alh. Ali Girgir
36. Pilot Livestock Development Programme
Nuhu Ibrahim
37. Board of Small & Medium Scale Industry
Lawan Musa Karasuwa
38. Printing Corporation
Suna Maje
39. State Emergency Management Agency
Alh. Audu Dapchi
Alh. Muktar Mandunari
40. Yobe Investment Company Ltd
Kadir Fajimi
41. Primary Healthcare Development Agency
Abdu Kaloma Gujba
42. Social & Community Development Agency
Shuaibu Danladi Hamza
43. Contributory Healthcare Management Agency
Hajiya Mai Riga Umar
Saratu Sabo
44. Drugs & Consumable Management Agency
Aishatu Hassan Gana
45. Pre Stressed Concrete Pole Industry
Alh. Muh'd Idi Yalawa
46. Potiskum Flour Mills Ltd
Abdu Zinzano
47. Sahel Alluminun Industry
Salisu Adamu Dogon Marke
48. SDGs
Maikudi Haram
49. FADAMA
Lawan Zulu
50. YAROTA
Hajja Aisa Alh. Modu
51. Road Maintenance Agency
Engr. Saidu Haram
52. Judicial Service Commission
Muh'd Adamu Chimo
53. Umar Suleiman College of Education
Alhaji Buraji Baba Gana
54. Mai Idriss Alooma Polytechnic
Mallum Modo Kanna Kura
55. Shehu Sule College of Nursing
Hajiya Habiba Umara Masokano
56. College of Health Sciences & Technology Nguru
Mohammed Auwali Kazir Jnr
57. College of Education & Legal Studies, Nguru
Adamu Yaro
58. College of Administration, Management and Technology, Potiskum
Hauwa Abdu
59. College of Agriculture Science & Technology, Gujba
Alh. Gambo Ibbi
60. YOGIS
Alh. Baffa Maina
61. NEPAD
Hajiya Baturiya Dogon Yaro
62. Media
Isa Sunusi
63. Security
DCP Babagana Zanna Adam
64. Intelligence
Adam Ali Dodo
65. YESSO
Grema Waro
66. Religious affairs
Abubakar Adam Muhammad
67. ICT
Dr. Adamu K. Mohammed
68. Photograph
Haruna Adamu
69. Interparty Affairs
Abdulkadir Umar Jajere
70. Special Duties
Musa Mai Jawa
All the deployments take immediate effect.