Agriculture
World Milk Day: Kano engages stakeholders on commercial fodder production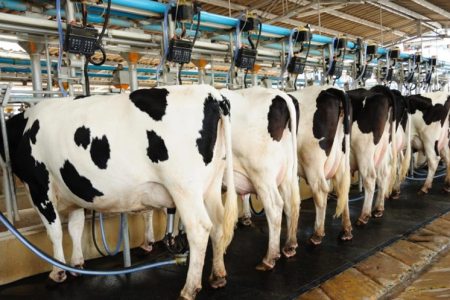 Kano State Agro-Pastoral Development Project team on Wednesday, met with key stakeholders, concerning the project's proposed commercial large scale fodder production.
The interaction coincided with events to mark the World Milk Day, an annual event celebrated around the world on June 1to recognize the contributions of milk and dairy sector to the world.
Read Also: Kano agro-pastoral project promotes climate-smart agricultural practices
Empirical studies have shown that availability and quality of fodder has a significant impact on livestock production cost efficiency, especially of milk.
Speaking during the occasion, the State Project Coordinator, Kano State Agro-Pastoral Development Project, KSADP, Malam Ibrahim Garba Muhammad explained that the project's intended intervention in fodder development was borne out of the desire to address shortage of livestock feed in Kano, in a sustainable way, adding that private sector involvement is key towards achieving the objective.
"The initiative also aims to appreciably lessen farmers-herdsmen conflict and other security challenges, arising from movement of pastoralists with their livestock over long distances in search of feed."
Thus, to promote fodder development in the state, "our project will support investment in commercial large scale fodder production in partnership with the private sector. 20 private sector investors interested in fodder production on plots of no less than 50 ha each will be assisted in the development of pastures, provision of harvesting and baling equipment and marketing facilities", the Project Coordinator emphasized.
Kano State government will make land available from its grazing reserves for the fodder development purpose and it is expected that at least 1,000 hectares of pastures which yield up to 25 tonnes per hectare will be developed.
"This is apart from the support to be given to 5,000 youths who will grow one hectare of fodder each, from which they will cut and sell for profit. We also have a separate smallholder fodder production arrangement for each of the families at Dansoshiya Grazing reserve", Malam Ibrahim disclosed.
He added that "the project has procured crop residue processing machines and related assorted materials worth millions of Naira, to be distributed to about 1,000 youth soon, to enable them produce and sell 'farm wastes' that could be used as livestock feeds after crops have been harvested".
The Managing Director, Kano State Agricultural and Rural Development Authority, KNARDA, Dr. Sha'arani Habibu Musa, in his remarks, described feed as one of the key constraints of livestock development in Nigeria, emphasizing that strong partnership between KSADP and the private sector will go a long way in providing fodder for livestock in Kano.
Stakeholders who made submissions during the interactive session made suggestions concerning access to production resources, training of prospective fodder producers, linkages with markets and sustainability of the intervention.
Ameen K. Yassar
Project Communication Specialist,
Kano State Agro Pastoral Development Project.
1st June, 2022