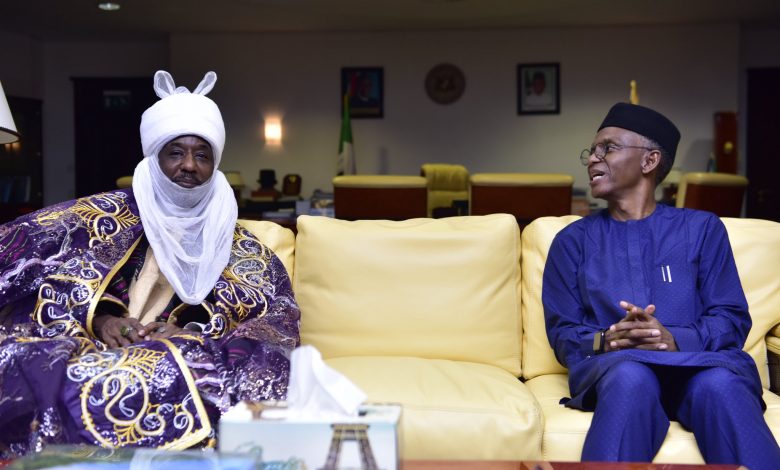 During his days as Central Bank of Nigeria (CBN) Governor, Muhammadu Sanusi II (then known as Sanusi Lamido Sanusi) never tired of telling whoever cared to listen that his greatest ambition was to become the Emir of Kano.
As the Almighty Allah decreed, Sanusi became the emir on June 8, 2014, succeeding Alhaji Ado Bayero who had occupied the ancient throne for more than 50 years.
Read Also: Oyetola congratulates Akeredolu over Supreme Court victory
Many believed that Alhaji Sanusi Ado Bayero, the eldest son of the late Kano monarch, would have succeeded his father as emir but for the politics that played in Sanusi's favour at the time.
Indeed, many said Sanusi II was appointed the emir of Kano in order to spite then President Goodluck Jonathan who had suspended Sanusi from his position as CBN governor. Sanusi's emergence as Kano emir was also greeted by protests.
As emir of Kano, Sanusi ran from one controversy to another, before eventually falling out with Governor Abdullahi Umar Ganduje. Though many believed politics was behind Ganduje's fight with Sanusi, the latter unfortunately gave the former several ropes with which to hang him.
Interestingly, after becoming the emir, Sanusi's ambition went a step further: he wanted to die on the throne! In an interview cited by Daily Trust, Sanusi, on February 4, 2015, said "My prayer is that I move from this palace to my grave. I don't have any desire or aspiration that I'm targeting. It is natural, I grew up in the palace and for me, and there was never anybody that is more important than the Emir of Kano…"
Ganduje, however, truncated Sanusi's ambition of dying on the throne, even if temporarily (for you never know what the future holds!) on March 9, 2020, Sanusi was dethroned and banished to Loko, and later Awe in Nasarawa State.
When he was deposed, Sanusi won many hearts by accepting his fate with uncommon equanimity. "One of the blessings I have received from Almighty Allah is that He made me the Emir of Kano on the 8th of June 2014. He kept me alive and healthy for almost six years on the throne of our blessed heritage. Today, Almighty Allah who made me the emir has taken the title away.
"We have always said it that being an emir is limited by time. The days Allah has willed for one to remain as emir are limited. Once those days are completed, one must vacate the throne whether he wants to or not. As a result of that, we accept whatever Allah wills. We are thankful, we are happy and we believe it is the best for us," the former emir had said.
But events since his dethronement show that Sanusi is yet to come to reality with his current status. He has since carved out a domain for himself in the city of Kaduna, which falls under the influence of Zazzau Emirate. Perhaps he is carried away by the support he rendered Bamalli to become emir.
Sanusi is doing things only emirs will do and his friend Governor Nasir El-Rufai sees nothing wrong with it. Indeed, El-Rufai is doing everything possible to get back at Ganduje foe embarrassing his friend who he appointed as Vice Chairman of the Kaduna Investment Promotion Agency (KADIPA) shortly after he was deposed.
The Emir of Zazzau Amb Ahmad Nuhu Bamalli may not come out openly to disapprove what Sanusi is doing, but no emir worth his royal robes will want to share his influence with another person in his own domain.
If Sanusi continues to treat Kaduna as his domain, holding court and doing other royal duties, things will slowly but surely get to a head, and a wedge will be created between him and Emir of Zazzau. Like the Hausa people will say, ba a sarki biyu a zamani daya, a kasa daya (two kings can't share a kingdom at the same time)!
Sanusi has also, since his appointment as Khalifah of Tijjaniyya in Nigeria, taken over the role of the Chief Imam of Kano Road mosque by leading the last two Eid prayers at Murtala Square, the last one attended by El-Rufai and his associates. Here also, the Imam may not say it, but one can only guess how he feels being relegated to the background.
But there is no gainsaying the fact that Sanusi cannot do the same under any government not headed by his friend. The former Kano emir should respect himself and not encroach into other people's territory in the name wielding power. Governor El-Rufai should also not condone this indiscretion in the name of loyalty to friendship.
Imrana Danlami, Tudun Wada Zaria.