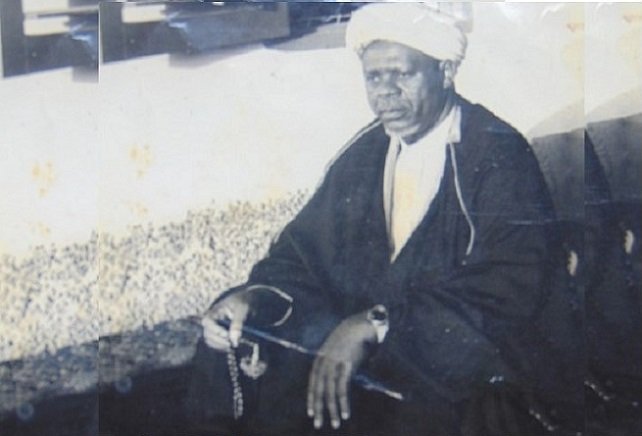 The story of Ibrahim Nwagui -also known as Ibrahim Nyass Igbo- begins in Afikpo where he has a recurring dream. He travels to Cameroon, Kano and Senegal where he meets the famous Sheikh Ibrahim Nyass, accepts Islam and begins work relating to the spread of Islam in parts of Nigeria's South East.
Sheikh Ibrahim Nwagui's personal album is still in very good condition despite the fact that it is well over fifty years old. It may also point to the quality photography available in the country at the time the photographs were taken. The album contains many vivid images of his life and times, and it is kept in a quiet room within the Centre for Arabic and Islamic Studies Afikpo, Ebonyi state. Some pages are blank which may suggest that some photographs are either lost or missing.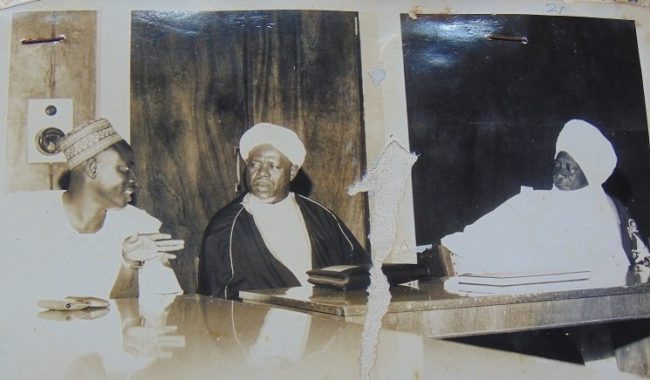 However, the photographs help the researcher to form an impression of the life of the Sheikh, especially his adult years. They also provide an insight into his associates, friends, and those he related with. It also contains a page which has a rare personal element-the Sheikh's handwriting. When he writes the words are expressed in large well defined alphabets.
These may seem to point to a straight forward honest personality. He describes himself in one of the initial pages with the words "World recognised Muslim Leader."
The photographs in the album cover a range of themes: We see Sheikh Nwagui with pupils about to board a flight, with bales of cloth donated to assist victims of the civil war, with Sultan Siddique Abubakar III, various unnamed personalities, laying the foundation stone of the Afikpo Central Mosque, Sheikh with a soldier pointing at something of interest, at prayer, assisting persons etc.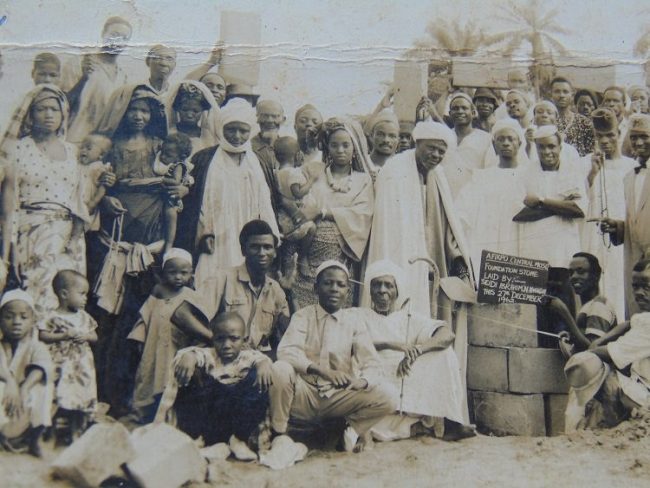 Anyone doing research on the Igbo Muslims of the South East, or into the story of Muslims from the South East as some prefer to be called, will very soon come across the name of Sheikh Nwagui who first took the message of Islam to Afikpo in 1958, set up the Centre for Arabic and Islamic Studies, Afikpo and played a role in spreading Islam across a large part of Nigeria's South East. He was known in many parts of Nigeria, as well as internationally. He was well known in the Arab world, and many of his pupils enjoyed scholarships from governments and groups in Arab countries.
The life of Sheikh Nwagui is made up of many striking elements. He was originally a Christian and served as a Catechist in a church somewhere around Afikpo.
According to Sheikh Daud Nwagui who works at the Islamic centre and enjoyed a scholarship to Libya in the 1960s "We don't know the name of the school, but it was a catholic missionary school. He became a catechist, and his name was changed to Emmanuel Okpani Agu." He then refers to a series of dreams experienced by Sheikh Nwagui. His words "In 1950 he had a dream. He saw a man with a turban carrying a rosary saying to him 'come to me'. When he woke up he drew the man he saw in the dream carrying the rosary. A month later he had a similar dream with the same individual repeating the same words he had initially uttered.
Again, a month later he had the same dream. The dream occurred three times."
Very soon he resigned from the school and began to search for the individual shown to him in the dream. Being a gifted artist, he drew the individual he had seen on a piece of paper. "He went to Cameroon and showed people there the drawing he had produced. They told him that it's a drawing of the Emir of Kano," adds Nwagui, an adopted son of the late Sheikh.
He travelled to Kano where he met the Emir of Kano at that time, who was the grandfather of former Emir of Kano Muhammadu Sanusi. At Kano he was told that the individual he had drawn is Sheikh Ibrahim Nyass of Kaolack, Senegal. He was advised to travel to Senegal to meet Sheikh Nyass.
According to Nwagui "Whenever he got to any Emir either in Nigeria or outside, and told them of his mission, they used to assist him and to direct him forward. The journey to locate Sheikh Nyass took him nine months. When he finally stood before Sheikh Nyass, he recognised that he was the individual he had seen in the dream."
After he had accepted Islam Sheikh Nyass named him Ibrahim Nyass Igbo. Sheikh Nwagui remained in Senegal for seven years, a period spanning 1951-1958. Very soon Sheikh Nyass told him that he is now fit to go out and propagate Islam with the words "Once you are my scholar, you don't need to ask for any allowance."
He returned to Afikpo in 1958 and introduced Islam to his people. "95% of the people of Enohia became Muslims. The population of the community at that time was not less than five thousand" adds Nwagui.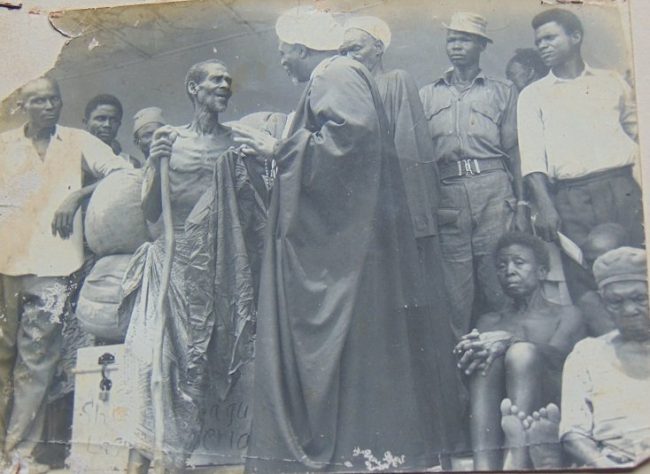 The Islamic centre started as a mosque which was built in 1965. After the construction of the mosque a primary school was set up. The Islamic centre had branches in Onitsha, Port Harcourt and Abiriba. Before the civil war the Islamic centre had branches in all these areas, and they were all patterned after the Afikpo centre.
The civil war 1967-1970 had negative impact on the efforts of Sheikh Nwagui in Afikpo. In the wake of the crises Nwagui had to leave Afikpo for Lagos. His house in Afikpo was demolished by Biafran soldiers, say different sources including Daud Nwagui.
After the war Sheikh Nwagui returned to Afikpo. "After the war Sheikh was allowed to be the leader of the community. He came with bales of cloth to give to the refugees. He encouraged the refugees not minding their religion. Everybody was welcome and accommodated,"adds Nwagui.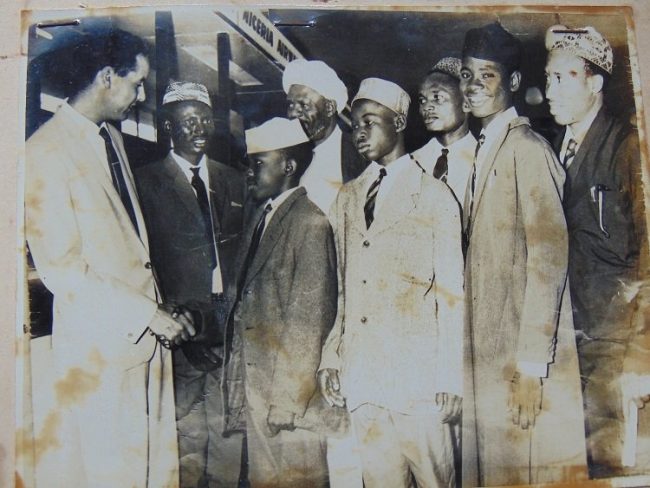 Ibrahim Ama, a federal commissioner representing south east in the National Hajj Commsission of Nigeria (NAHCON) who passed on shortly after being interviewed, provides some additional details into the life of Sheikh Nwagui.
He says that the Sheikh was born in 1920 and that he was an orphan. At a point he was taken to Cameroon by his Uncle and he remained there for six years. While in Cameroon he continued to experience the dreams earlier referred to.
"He could not bear it again and he started telling his relatives and friends about the dream. They told him that the person you are seeing in the dream must be a Muslim. It is only in northern Nigeria that you can see people in that attire. He returned to Nigeria and travelled to Kano. That was his first time of travelling to the north. He was taken to the palace of Emir Sanusi, the grandfather of deposed Emir Muhammadu Sanusi. He showed the drawing to the Emir who told him that it is a sketch of Sheikh Ibrahim Nyass of Senegal, and everybody in the palace attested to that," explains Ama.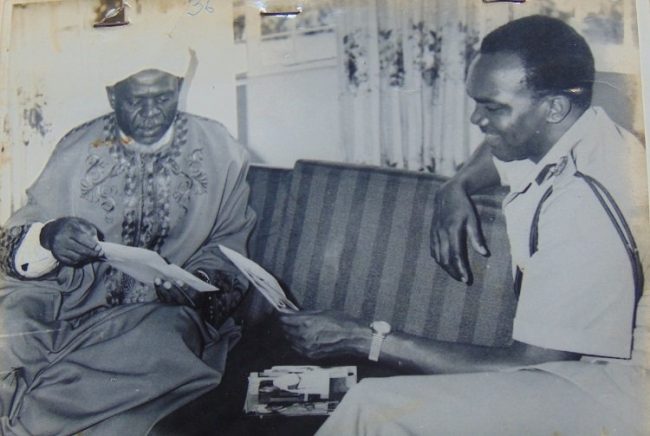 Ama describes the initial meeting between Sheikh Nwagui and Sheikh Ibrahim Nyass. His words "The moment Nwagui saw Sheikh Nyass of Kaolack, he smiled. Sheikh Nyass said "I have been waiting for you. I had a similar dream that you were coming. It's been long. He presented Islam to him and named him Ibrahim Nyass Igbo."
Sheikh Nyass belonged to the Tijaniyya sect of Islam which emphasises mysticism. When Nwagui returned to Nigeria, he was warmly received by members of the Tijaniyya sect based in Kano and elsewhere.
Dr. Haroun Ajah, pioneer chairman Ebonyi state Muslim pilgrim's welfare board, sheds light on the life and legacy of Sheikh Nwagui. His words "Sheikh Ibrahim Nwagui came back to our village in 1958. My father became a Muslim and he was one of the early followers of Nwagui. In 1965 when Nwagui established the school, some of us were already in primary school. I remember when I was withdrawn from the school to register in the initial school Nwagui brought which was called Karatu or makarantar (Islamic school). I was one of the foundation pupils of Nwagui's school of Arabic and Islamic studies which has grown to become what it is today. We were there until 1966/1967 when the war came."
Sheikh Ibrahim Nwagui died in Owerri, Imo state in 1976.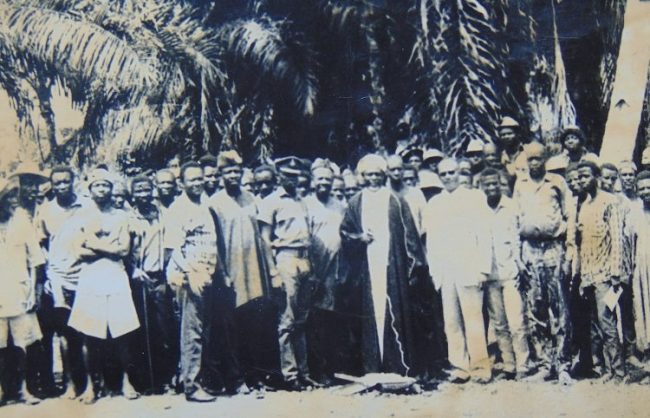 Ajah, who is also Chairman, All Progressives Congress (APC) in Ebonyi state, speaks of the great vision of Sheikh Nwagui "The legacy of Nwagui that's supposed to be sustained is not only the school. He came with a proposal for a hospital, a library, Islamic university, farm settlement, and so on and so forth. There's an impressive blueprint that Nwagui prepared. He had a big dream. What we have now is not the full scale of Nwagui's aims and objectives. It's just a minute part of it. He wanted to expand beyond Afikpo, spreading past Abiriba across all the settlements in eastern Nigeria. The work he had in mind has not even started."
On Nwagui's legacy, Ama states "He had a great vision and had plans to set up a farm settlement and other centres of learning. Daud Nwagui draws attention to the fact that Nwagui's essential legacy is the Islamic centre Afikpo which symbolises the expansion of Islam in Nigeria's south east.
The Islamic centre has produced thousands of graduates over the years. Many of these have risen highly in the army, police, law, medicine, politics and engineering fields, adds Isa Okonkwo, immediate past Director of the Islamic Centre. He mentions that a pupil does not need to be a Muslim to be admitted into the centre.
This report was supported by the Centre for Arabic and Islamic Studies, Afikpo.