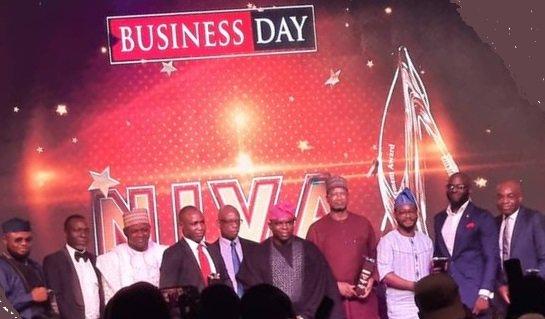 Chairman of Dantata Conglomerate Alhaji Tajudeen Dantata has been recognised as Industrialist of the year 2021 by the Business Day newspaper in collaboration with the Nigeria Stock Exchange (NSE).
A statement issued by General Manager, Corporate Services, Dantata Conglomerate, Nigeria, Malam Sanusi Bature, said Dantata was recognised at an event titled Nigeria Investor Value Award (NIVA) 2021 held on Saturday 24th April at Lagos Intercontinental Hotel, Victoria Island.
The statement said Alhaji Tajudeen Dantata was awarded along with his most popular company Dantata Foods and Allied Products Company Limited, which also won the 2021 Next Bulls Award.
It said the Company was selected among 135 top companies in Nigeria by the Business Day Research and Intelligence Unit (BRIU).
''The Industrialist of the Year award is instituted to recognize a visionary business leader who has transformed a market, industry, company, product or service by pioneering the introduction and wide-spread adoption of special innovations in technology, management, production and operations which has led to massive job creation, technology transfer, conservation of national foreign reserves, and the success of government policies,'' said the statement.
"The winner of this year's Award is Alhaji Tajudeen Aminu Dantata, a businessman and financier of global repute. He was the Group Managing Director of Dantata Organization, a position he has occupied since 1994.
"A third-generation magnate from the illustrious Dantata dynasty of Kano, he entered the senior management cadre in 1988 as Group Director of the Dantata Organization" quoted as announced by the MC.
''As one of the finest young CEOs in Nigeria, Alhaji Tajudeen left family business and acquired Bebeji Oil, which is now known as Dantata Foods and Allied Products Company Limited in 2005.
"The parent company has since then transformed into a conglomerate with presence across the West African Sub-Region with interests spanning Financial Services, Building & Construction, Distribution, Agribusiness, Foods Processing, Manufacturing, Media and Communications and Import & Export Businesses.''
According to the statement, Companies under the conglomerate include Dantata Foods, Tamidan Nigeria Limited, SNiger Drilling and Construction, D'Afric Global Resources Ltd, Dantata RegenAg Ltd, Dantata Media and Communications, Thumos Dantata Agriculture, Gulfstream Logistics Ltd, Titan Aviation Services Company, Damachem Integrated Marketing Limited. Together, the conglomerates report annual revenues of several hundred million dollars.
"The Dantata conglomerate traces its roots back more than a century to 1910 when Alhassan Dantata, the family patriarch established himself as a major dealer in kola nuts and groundnuts; serving markets as far afield as Lagos and Accra from his base in Kano. Today, both Dantata Organization and Dantata conglomerate provide employment, directly and indirectly, to over 120,000 Nigerians. ''
"Alhaji Tajudeen Dantata serves on the Board of several companies. He served as Chairman of Kano State Housing Corporation and Kano State Tourism Board. He is currently serving as the Chairman of the Board of Kano Electricity Distribution Company Plc (KEDCO).''
"Alhaji Tajudeen is on the Boards of Kaduna Electricity Distribution Company, Ja'iz Bank Plc, First Bank and MTN Nigeria.''
''He is also the Chairman/CEO of the Dantata Foods and Allied Products Limited (DFAP), a leading food and beverages producing company. The company pioneered regenerative agriculture in Nigeria, a system of farming principles and practices that aim to rehabilitate and enhance the entire ecosystem of the farm by placing a heavy premium on soil health, water management, intelligent use of soil regenerator, and more. Rather than depleting the resources it uses, regenerative farming to improve them. ''
''The company is an established market leader in many verticals. It is the largest producer of edible oil in West Africa, and the largest exporter of cotton seeds cake to several West African countries. ''
''The 56-year-old Dantata is happily married with many children and grandchildren. An avid horseman and polo player of International repute; he serves as the Chairman of the Kano State Turf club and is also the patron of Titan Polo Team and Captain of the Kano Polo club.''
''Alhaji Tajudeen Dantata attended Saint Thomas Secondary School Kano, Victoria College in Alexandria Egypt and Manaret College in Jeddah, Saudi Arabia. He earned a degree in Business Studies from the West London University.''
In his acceptance speech, the Chairman Dantata Foods and Allied Products Limited Alhaji Tajudeen Aminu Dantata said Business Day Newspaper has built a reputation of being the most authoritative and reliable provider of business and financial news not only in Nigeria but across the globe while the Nigerian Stock Exchange over the years has become one of the prime movers of the Nigerian financial sector and has been doing a great job in this direction.
"It is, therefore, a great pleasure for these two giant institutions to come together, under the auspices of the Nigeria Investor Value Awards (NIVA) 2021, and without any prior knowledge to assess and nominate Dantata Foods and Allied Products Company Limited for such an award and my conferment as the industrialist of the year award 2021"
High dignitaries who attended the occasion include The DG Nigeria Stock Exchange, Kano State Commissioner for Information, Comrade Muhammad Garba who represented Governor Abdullahi Umar Ganduje, The CEO Silk Clean Road Technologies, UK Maurice Frosch and numerous captains of the industries within and outside Nigeria.