Former students and acquaintances have continued to pay tribute to Prof Krzysztof Schoeneich, a professor of hydrogeology, who has worked with Ahmadu Bello University (ABU) Zaria and the University of Jos for decades.
The late professor, who was born in 1932, died on Friday, September 4, 2020, in Warsaw, Poland, his home country, after leaving Nigeria on July 12, 2020.
Prof Schoeneich had been in the university system since 1955, starting with two universities in Poland and ending with two universities in Nigeria. In Poland, he had worked at the Department of the Geology University of Warsaw and later at the Department of Geotechnics and Soil Mechanics at the University of Szczecin.
In Nigeria, he worked at the Department of Geography and Planning at the University of Jos and eventually at the Department of Geology, ABU Zaria, where he worked from 1978 on a part-time basis before becoming fulltime staff in 1997.
He left ABU earlier in the year as a result of the integrated Payroll and Personnel Information System (IPPIS) introduced by the Federal Government that led to the dropping of contract staff.
Expectedly, former students who have had the privilege of learning under the legendary professor have took to their social media handles to pay tribute to the man who impacted their lives in a positive way.
One of the tributes seen by Dateline Nigeria said "I remember his solo protest against cutting down trees in ABU Zaria main campus, Samaru."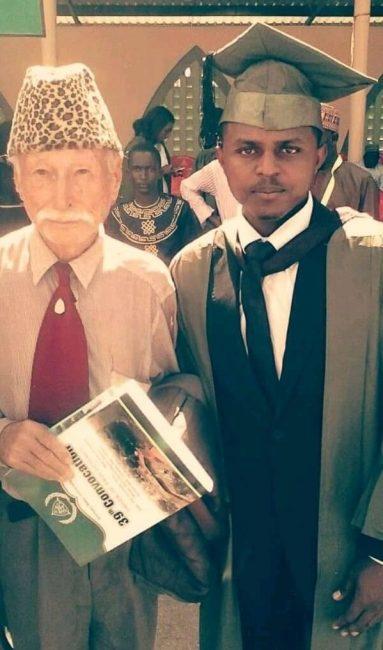 Also paying his tribute, Ibrahim Umar Ibrahim said: "When I was in 400L, he was assigned to me as my seminar supervisor. I, together with a colleague, went and met him in his office to discuss how to go ahead with the seminar topic. Immediately he heard the seminar topic, he said 'No you have to change this topic. I want you to do something that will interest the audience.'
"After about two hours of discussion, we agreed on 'Effects of lead poisoning in Zamfara State'. I will forever be grateful to him for that. We presented that topic and it amazed the audience and Got A. Thank you prof for your services to us in Geology department, ABU and Nigeria at large. RIP Prof."
Rafiu Musa wrote: "He (Prof Schoeneich) will be remembered for his kind gesture over human, nature and animal. To tell you how Prof loves nature, there was a time in the campus when there was high cutting down of trees, Prof met them and started shouting 'barawo' to those cutting down the trees."
Ebenezer Ozuwo said: "Someday in January 2019 (when I went to get my transcript), we met at one of the restaurants in social centre. He sat next to me, ate 'masa' and bought a lot for the cats. As soon as the cats around saw him, they ran towards him in expectation, luckily for them their expectations were met as he started throwing the 'masa' on the floor for them. It was such an amazing sight. Rest on Prof."
Tajudeen Jimoh said: "Everybody is mourning you Prof. All the Cats in ABU main campus are wailing and mourning a great benefactor who make it a point of duty to feed them every day from your own pocket. Your humanity transcend not only human being but animals as well. Adieu Baba."
Abdullah Said Nagwale said "I remember him during our school time, we were had conversation about something in the cue of food at Mama's place, at faculty of Science ABU Zaria. And also at Basketball court, where VC Prof. Abdullahi Mustapha gave him award. We really miss you indeed Prof."
Tang Dapoet said: "He had a great impact on so many of us in Unijos. He was my professor too and taught me hydrology. A great mind that served humanity with all he had. Rest in peace Prof."
Muhammad Khalid said: "I remember the last time I saw him at the tap by FSLT carrying a Snail. And one of us moved forward to ask him some questions about the snail he was carrying. What impressed me more about him is the way he listened to him and the way he answered all his questions… May God's mercy be upon him."
Katukan Zazzau said: "As if he knew death was just around the corner, he left for Warsaw, Poland; his mother country, about 2 months ago, and died on the 4th of September 2020. Prof. Krzysztof Schoeneich was a bank of knowledge especially in the field of Hydrogeology."
Suleiman Muazu said: He (Prof Schoeneich) gave all his active life to Nigeria. He left his motherland (Poland), his childhood friends, his family and served our educational system. Understanding his importance and sacrifice, ABU Zaria retained him as a contract staff, even after his retirement.
"Then comes IPPIS. He had to be dropped by ABU among the contract staff laid off. He returned home two months ago to a life that is now alien to him, to people he forgo for us, and to a nation not in need of him. It will not be surprising to find a connection between this and his death. He died on the 4th of Sept. At Warsaw, Poland."