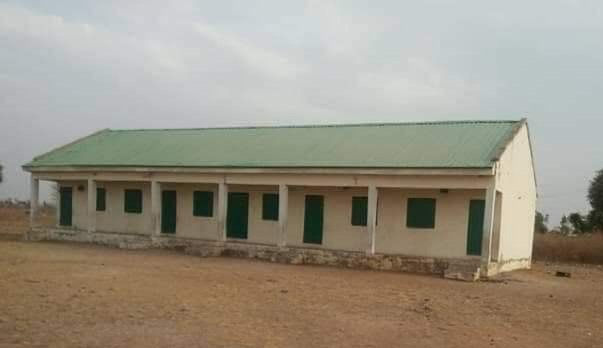 Dear Volunteer,
I thank you most sincerely for showing interest to be a volunteer teacher in Ibrahim Ndotti College for Free Remedial Studies, Wuro Ardo, Fufore. I write this letter to formally invite you to a meeting with me in December, 2021 and to let you know that the driving force behind my establishing the college is to provide free remedial studies which I started in 2011 when I was in the State House of Assembly representing Fufore/Gurin constituency. I named the college after my dad as a mark of honour for the sacrifices he endured for education in my community.
Let me hasten to remind you of what you already know that remedial program for our young ones is aimed at giving the youth a second chance to either pass or make better grades than they recorded in the first or earlier sitting in a previous examination. For me, attending the program does not therefore in any way mean that they failed to make the required results because of inability. Many, you will agree with me, may just have been unlucky that first or earlier sitting.
Though the college was actually set up to help students of Fufore/Gurin constituency to have a second chance, when we started even students from Yola, a distance of 13 kilometres from where the college is located, benefitted from the program paid for by the Hon. Kabiru Mijinyawa.
It is also very important that I inform you that most of the teachers who volunteered in the only two years we run it were employees in government schools who volunteered and taught for free except for transportation fare I paid them weekly.
But to complement the teachers, I also requested for NYSC members who read science subjects posted to Fufore, who the council chairman sent as volunteer teachers to our college. The corps members received allowances from the NYSC, the local government and from me.
You may wish to know also that the college graduated its first set of students on 26th October, 2013. Interestingly, we recorded the best results in WAEC, NECO and JAMB in Fufore LGA that year.
Of the thirty six graduands who sat for WAEC, NECO and JAMB examinations, 75% of them made 5 credits and above (including distinctions) with outstanding grades in Economics, Physics, Chemistry, Biology, Mathematics and English language. Yahya Galadima Dasin got the best result in WAEC, Hadiza Abdulkarim Bayo was best in NECO and Onyinye Chukwuma Nwatu got the highest points in JAMB.
Yahya Galdima Dasin who is a staff of the State Ministry of Environment and a holder of certificate in Environmental Health from School of Health Technology, Mubi is now set to graduate from College of Education, Yola with a degree in Environmental Health. Hadiza Abdulkareem Bayo obtained NCE also from FCE and is now happily married in Fufore, while Onyinye is now a graduate of Medical Laboratory from the University of Jos.
One of our most promising female students was Afiyatu Mohammad Inuwa who is a graduate of B. Tech. (Chemistry) from MAUTECH, Yola. In 2014, we graduated our second set with an even better feat.
Unfortunately when I was elected member House of Representatives in 2015, the story changed.The volunteer teachers demanded for pay because, as they told me, by becoming member House of Representatives my income had increased, which was indeed true. I initially agreed but when I found out that I could not meet up with the financial demands by politicians in my constituency and still pay salary to teachers in a school I earned no income from, I changed strategy instead of closing down the college.
The strategy was to turn the college into a Nursery/Primary school, handed it over to the host community and asked that they recruit NCE holders from among their sons and daughters as teachers, complement them with national youths Corps members and pay them. The strategy achieved tree purposes.
First it kept the college open as a Nursery/Primary school and now has a secondary section, reduced unemployment among NCE holders in the community who are teachers in the school now and it provided job for a night guardsman and for a Nanny in the Nursery section. All members of the community.
Yet we maintain standards. I consistently attended PTA meetings and insisted that our students speak only English which we achieved by accepting only NYSC members who cannot speak Hausa or Fulfulde languages. We also made teaching in the school strictly in English language and also insist on no vernacular in conversations between students within the school premises.
We also have two teachers that are Hafiz; one from Wuro Chekke and one from Wuro Hausa, Yola who teach Qur'anic memorisation.
Having closed the Remedial section since 2015, it is now my desire to reintroduce the program as we presently have five youth corps members posted to the college. Therefore your volunteering to serve will assist in no small measure in giving opportunity to our youths to pass their WAEC, NECO and JAMB examinations.
Let me also say that I know universities and colleges do give admissions to students to proceed to do a degree program with deficiency in one or two subjects. Nothing therefore prevents such university or college students from coming to us to remedy such minor deficiency.
My reason for insisting on teaching only Science and Civic education in the college is because science and technology goes with innovation, and it is because I know that innovation drives human pursuit of sustainable development.
I encourage Civic Education in order to enable our youth understand their actions, review them critically, and to take care of their rights. As a politician, I have observed that our youths, being the largest critical mass in determining outcome of elections are the guilty ones electing politicians who buy votes. With knowledge of Civic education this may change the youths.
I also insists that we teach sciences in the college because in Fufore, we have an excellent science laboratory in the GDSS, which was attracted to the school by Hon. Umaru Hamma Tukur Ribadu, a retired staff of Chevron oil.
Finally, I hope this letter will help you in making up your mind or to decide whether you actually want to be one of our volunteers. Volunteer job as a teacher attracts less sleep and no pay. It requires sacrifice; which my father endured that made his dream a reality for his children, which is my dream for every child in Nigeria.
Thank you.
I am Yours,
Sadiq Ibrahim Dasin
Dasin is a former member of the House of Representatives for Fufore/Song Federal Constituency