Sports
Nadal wins 13th Roland Garros title; ties Federer with 20 Grand Slams
On Sunday, Rafael Nadal defeated Novak Djokovic, 6-0, 6-2, 7-5, to triumph for the 13th time at Roland Garros and claim a men's record-tying 20th major title. With this win, he joins Roger Federer at the top of the men's tree.
The win is his 13th Roland Garros title and his 100th win in French Open. Nadal has previously lost only two matches.
Nadal celebrates
"For me winning here another time, I can't even say it is a dream.
"It is out of my thoughts. I am super happy. This court is the most important court in my tennis career.
"We are under very tough circumstances. In some ways it is not that happy because we cannot celebrate the tournament in a normal way.
"But anyway, thanks to all the fans for their support. I really hope that in a couple of months when we are back here we will be able to celebrate this amazing, beautiful new stadium with a full crowd."
Nadal said: "Another great year for Novak. What you are doing in tennis is something very special.
"It is honestly a pleasure to share this great era of tennis together even though we have had tough battles.
"I hope to keep facing you for the next couple of years. Congrats and all the best for the future."
Djokovic Reacts
"I don't have much to say but that I was completely overplayed by Rafa, by [a] better player on the court. He was not missing at all and getting every ball back, just playing tactically great. I felt well throughout the entire tournament. I thought I was in a great form. Certainly I could have played better, especially in the first two sets. But just, he did surprise me with the way he was playing, the quality of tennis he was producing, the level. I mean, he's phenomenal. He played a perfect match, especially in the first two sets."
"I was also thinking that these conditions are more favorable to me. I was feeling great throughout the tournament playing, playing great tennis, winning in Rome, being very confident about my game. But, yeah, Rafa has proven everybody wrong. That's why he's a great champion. He just played a fantastic match today. That's all."
Federer congratulates Rafa
Following Rafael Nadal's victory over Novak Djokovic, Roger Federer tweeted this message of congratulations to the Spaniard on joining him with 20 major titles.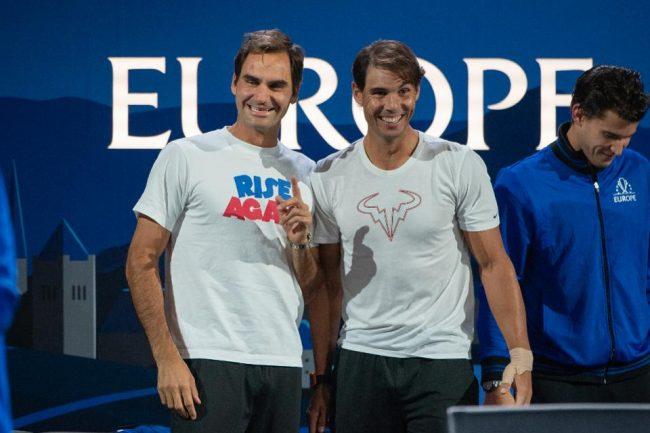 "I have always had the utmost respect for my friend Rafa as a person and as a champion. Therefore it is a true honor for me to congratulate him on his 20th Grand Slam victory. It is especially amazing that he has now won Roland Garros an incredible 13 times, which is one of the greatest achievements in sport. I also congratulate his team, because nobody can do this alone. I hope 20 is just another step on the continuing journey for both of us. Well done, Rafa. You deserve it."