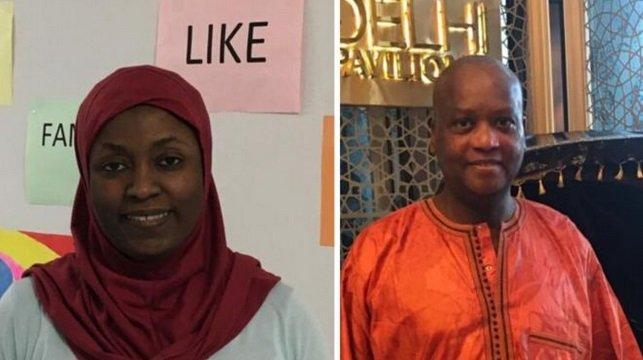 Hausa doctors from Nigeria are among thousands of professional health workers from Africa on the frontline battling the coronavirus pandemic in the United Kingdom.
Dr Umar Jibrin Madigawa, from Kano State, is a surgeon based in Britain, while Dr Hadiza Suleiman Gachi hails from Katsina State.
Kano and Katsina states so far have 36 and 12 COVID-19 cases respectively, according to the latest results released by the Nigeria Centre for Disease Control (NCDC).
Over 60 doctors and other health workers are among the casualties of coronavirus in Britain, including Dr Alfa Sa'adu, who hailed from Kwara State.
It has been reported that doctors treating coronavirus patients in Europe and America are writing their wills because of uncertainties and the risks involved in discharging their work.
BBC Hausa spoke to the two doctors on how they have been carrying out their duties.
Dr Hadiza Sulaiman Gachi, a doctor with George Eliot Hospital in the UK, is among health workers taking care of coronavirus patients. She's concerned over the fate of her parents and relations back in Katsina State.
Dr Hadiza said, "We are seeing disturbing cases where patients, especially males of around 40 years, are dying after being brought to the hospital."
She added that "I am worried we might also get infected in the course of caring for these [coronavirus] patients."
The doctor however said they are doing their best to see that they are not infected, and pass on the virus to their kids at home.
"Anytime I enter my vehicle, I clean the steering wheel, the seats and other places. I also don't allow my daughter to welcome me with a hug as he used to. Anytime I arrived home from work I go straight to the toilet to clean myself before we meet," Dr Hadiza said.
According to her, her daughter easily gets scared whenever she hears about the death of doctors.
As for her parents and relations in Katsina, Dr Hadiza said "I have informed my mother to stay at home and not go to the market or attend naming or wedding ceremonies."
She however called on the authorities in Africa, especially Nigeria, to come to the aid of the people with food and money before their communities are locked down.
"You cannot compare our countries in Africa to those in Europe, so our people really need help," Dr Hadiza added.
For his part, Dr Umar Jibrin Madigawa said it is not easy seeing how coronavirus patients are faring or even dying.
According to him, "We are working based on God's protection", because doctors must work to save the people.
"We are seeing how thousands of people are dying and I can't believe how our people back home in Nigeria are dismissing this virus as mere stories," Dr Madigawa said.
"This disease is real and people need to stay safe. They should follow the advice of the World Health Organisation (WHO) such as avoiding gatherings and constantly washing their hands."
Dr Umar Farouk Madigawa added that the virus has no cure at the moment and urged the people, especially those in northern Nigeria, to protect themselves.