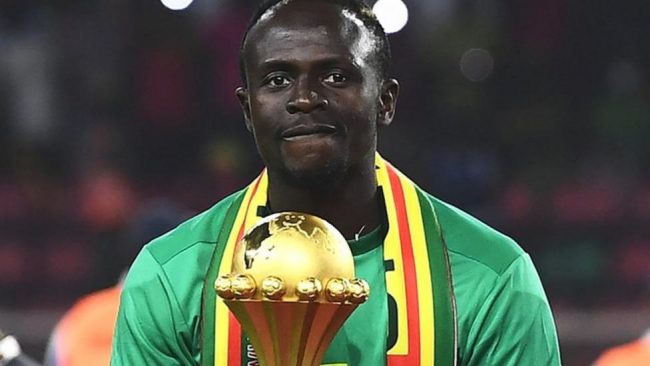 Sadio Mane has established himself as one of the best forwards on the planet, and further established his reputation in January by guiding Senegal to the Africa Cup of Nations title.
The 29-year-old Liverpool star is not the most extroverted character like other players of his calibre, but recently sat down to discuss various aspects of his life and career.
Read Also: Mark 'D' Ball: Kano Pillars beat Bauchi Nets to emerge group winners 
"I don't want to give the impression of being a lecturer, but it is true that there are certain values circulating in football that bother me a bit based on my education," he told L'Equipe.
"But, instead of criticising out loud, sometimes I prefer to distance myself a bit.
"The main thing is not to change, and I don't think it has changed. And, for a boy who comes from a small town in Casamance, it is already a great victory to resist all that."
On whether he would like a lifestyle similar to that of Cristiano Ronaldo or Neymar, Mane laughed it off.
"No! I follow them on social media and that's enough for me. I love their extraordinary life, but that life is not made for me."
Mane spoke of his mother's stress during AFCON 2021.
"We call each other every day. And the night of the final, as usual, she didn't watch the match because she was too scared," he said.
"She told me that she had lost seven kilos during the tournament because she was so stressed. At the end of the match, I told her: 'Now, we have to go eat because it's over, we've won.'"
Mane scored the winning penalty in that final between Senegal and Egypt, with his Liverpool teammate Mohamed Salah losing out.
"It was clear to me that after our triumph he was very disappointed," Mane said of Salah.
"I was not going to leave him without a word. What I did, he would have done in the same way if things had been the other way around.
"I gave him some simple words, enough to try to comfort him, asking him to never give up."
Kylian Mbappe's future is up in the air, and Mane admits he'd love to be his teammate, but only at Anfield.
"Sure! It would be an exceptional partnership. He just has to come to Liverpool. I'm sure he would like it," Mane said.