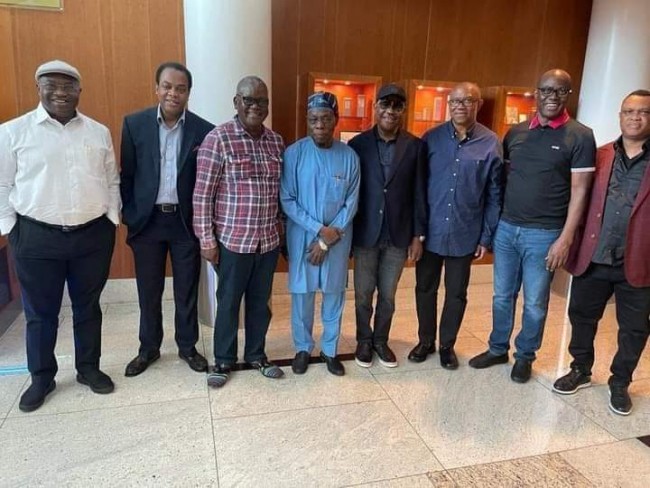 There is no formal statement on why the Rivers State Governor, Nyesom Wike, is in London, but whether it was part of his annual leave or medical trip, he has proven to be an after-sought bride of Nigerian politicians.
It all started two days ago when reports emerged that the APC 2023 presidential candidate, Sen. Bola Ahned Tinubu, met with the "vacationing" Rivers State Governor in London.
The rendezvous of the two politicians outside the shores of Nigeria took particularly members of his (Wike's) party, the PDP, by surprise, especially when it was the very day that he was supposed to meet with Atiku's Fintiri-led delegation to resolve some outstanding issues.
In less than 24 hours after Wike's meeting with the APC flag bearer, Atiku, in company of his State Governor and a known Wike supporter, rushed to London to try his luck with the new darling of Nigerian politicians.
Some sources say that Gov. Wike snubbed the Atiku delegation and jet out to London, because he expected the PDP Presidential candidate himself to visit with him in Portharcourt and not send emissaries.
Hours after the Wike-Atiku meeting whose outcome was as gloomy as before it was held, former President Olusegun Obasanjo, playing a born-again man of faith, led the Labour Party presidential candidate, Mr. Peter Obi, to parley with the Rivers State Governor.
The big question now is, why are the presidential candidates courting Wike, what value will he add to their electoral fortune?
The APC, for one, already has Rivers State in its kitty, because from Wike's body language while welcoming a number of high profile APC party stalwarts that visited with him in Porthacourt in the last few weeks, it was obvious that he appreciated the gesture and must have paved way for the London meeting with the Asiwaju.
All the rest had to scramble to jet out and meet with him to get him change his mind about working in alliance with the APC in 2023, a task that can be termed as futile, because the Rivers State Governor was greatly hurt by events in his party that took place after the primaries.
For either the Peoples Democratic Party (PDP) and the Labour Party (LP), victory will be farfetched even with a win in Rivers State. Hardluck for especially the PDP for letting Wike down and is now paying big for its failure to appreciate his place and kind contribution towards nursing the party from 2019 up to the time of the presidential primary election.
Simply put, Gov. Wike was left with no choice but to fall in to the amorous arms of the ruling APC. It is doubtful if the London pilgrimage with a a first class ticket tab on British Airways at $12,800 was worth the trip. This is not to count the cost of stay in 5-star hotels and other incidentals.
Iyawa is former Nigeria's Ambassador to Mexico