News
KASU suspends students involved in beating NDA cadets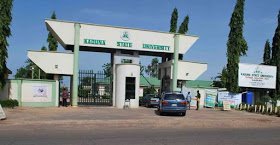 The Management of Kaduna State University (KASU) has suspended the students that were involved in the unrest associated with the Matriculation Ceremony fun fair that took place on Tuesday, 12th October, 2021.
Dateline Nigeria had exclusively reported how some cadets of the Nigerian Defence Academy (NDA) were beaten by students over girlfriend on Tuesday.
A statement by KASU PRO Adamu Nuhu Bargo on Wednesday said "the unfortunate incident which occurred between students of KASU and Cadets of the Nigerian Defence Academy (NDA) is being investigated."
He added that further disciplinary action will be meted to forestall future occurrence.
"Management will not tolerate any act of indiscipline as the University is a place where character and learning is being taught.
"The public would be kept abreast of any development in this regard," the statement said.