News
BUK students protest insecurity as phone snatchers stab man to death
Students of Bayero University Kano (BUK) protested today over insecurity around the institution after a young man identified as Adam Adam Shanono was stabbed Sunday night to death by phone snatchers.
Dateline Nigeria reports that the students were irked by the rampant cases of phone snatching and other forms of criminalities around the New site.
Read Also: Buhari's Chief of Staff confirms 'foolish attempt' to burgle his residence
Entry into the institution was temporarily halted as the protest lasted to avoid escalation. It was also learnt that many within the school were not aware of the protest.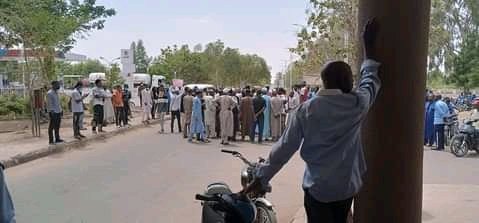 A statement by the institution's managememt said its attention was drawn to "a social media post alleging that a student of Bayero University was found dead on the New Campus.
"The post that the deceased was a student of Bayero University, Kano is fake, malicious and with no substance.
"However, our investigation has revealed that the deceased, identified as Adam Adamu Sunusi Shanono, was not a student of the University.
"Already security operatives have arrested two suspects in connection with the incident. Both suspects are in no way connected to Bayero University, Kano.
"The general public is hereby urged to take note of this information, please. The Management also wishes to caution members of the public to desist from spreading fake and unverifiable
information in respect of the University."