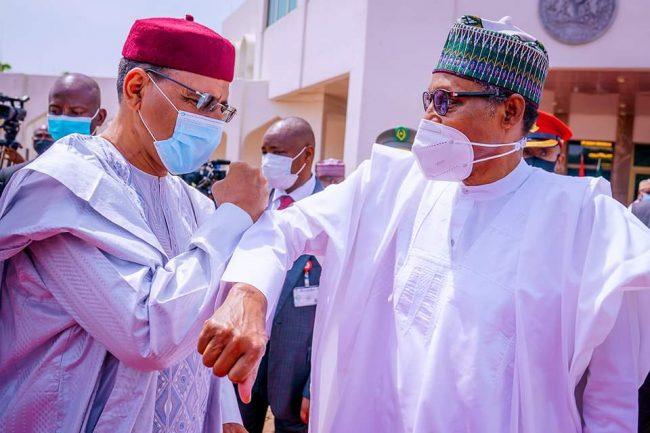 It is a storm in a tea cup – Presidency source
The Federal Government of Nigeria on Wednesday confirmed that it approved the purchase of vehicles worth N1.4 billion for neighboring Niger Republic to tackle insecurity.
The Minister of Finance, Budget, and National Planning, Zainab Ahmed gave the confirmation on Wednesday, explaining that providing intervention to the neighboring Niger Republic is not new and it is the prerogative of President Muhammadu Buhari who approved the purchase.
According to her, President Buhari, whose actions she cannot question, has the right to make his own assessment of situations and give directives accordingly.
Read also: Niger president honours 6 Nigerians as country marks 62 independence anniversary
She added that the financial support, which is primarily for the purpose of enhancing capacity to protect their territory, based on a request by the Nigerien Government, is also in the best interest of the country.
The minister, who was speaking after the Federal Executive Council (FEC) meeting presided over by the President, responded to questions regarding documents released on social media which showed that the president approved the release of the funds on February 22, 2022, for the Niger Republic.
An independent journalist David Hundeyin had on Tuesday posted a budget office document showing the payment and asked President Muhammadu Buhari to explain why "scarce" public resources were being expended on Niger Republic without it appearing "on official Budget Office documentation."
It is a storm in a tea cup – Presidency source
Meanwhile, a source in the presidency has described outrage over the purchase of the vehicles for Niger Republic as misplaced. He said the fact that the information was obtained from a government document showed that there was nothing to hide about it.
The official, who wants to remain anonymous because he was not authorised to speak, said "The Nigerian government is seen as a big brother by many African countries and they seek one or two favours from time to time..
"But in this case, it was in Nigeria's best interest to help improve the capacity of Niger Republic to confront arms smugglers who use parts of its territory to perpetrate their dastardly act.
"And you know some of these smuggled arms from Libya and other places end up in Nigeria because Niger Republic, which shares a long border with us, is finding it difficult to stop them.
"It is just like what former President Goodluck Jonathan did in 2014 during the outbreak of the Ebola disease. Nigeria donated of $500,000 United States Dollars to the Government of Liberia to aid with the fight against the deadly Ebola Virus.
"Indeed Jonathan approved donation totalling $3.5m to Guinea, Sierra Leone, West African Health Organization (WHAO) and the ECOWAS Pool Fund against Ebola.
"It made sense because Nigeria was only being proactive and we all know the health challenge that we faced during the Ebola outbreak. So Nigerians should understand that we are only helping ourselves by helping Niger Republic to fight insecurity."