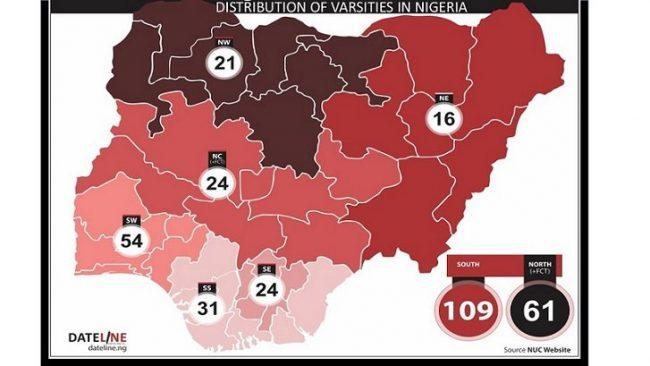 According to the National Universities Commission (NUC) website, Nigeria currently has a total of 170 varsities. Of the number, 43 are owned by the Federal Government, 48 by states and 79 by private individuals and organisations, mostly religious groups.
Though many federal, state and private universities are in the pipeline, the current reality puts the Northern Nigeria (North West, North Central and North East) at a disadvantage compared to its Southern (South West, South East and South South) counterpart.
For federal universities, all the 36 states and Abuja have them, with some having more than one. i.e. Borno 2, Delta 2, Kaduna 3, Kano 2, and Lagos 2. All the 36 states also own at least a university each, but Bayelsa have 3, Edo 2, Gombe 2, Imo 2, Kano 2, Ogun 3, Ondo 3, Oyo 2 and Rivers 2.
When it comes to number of private universities, so many states – mostly in the North – are yet to have any, while others have multiple. Abia 3, Akwa Ibom 2, Anambra 4, Delta 5, Edo 4, Enugu 4, Kwara 4, Lagos 5, Ogun 12, Ondo 3, Osun 8, Oyo 7 and Rivers 2.
In terms of distribution, therefore, the South has 109, while the North + FCT has 61 out of the 170 universities in the country. By geopolitical zones, South South has 31; South East 24; South West 54; North East 16; North West 21; and North Central 24 (+FCT).
Analysis shows that 10 northern states have no private university, while only Bayelsa is without a private university in the south.
In the North, Adamawa, Benue, Kaduna, Kano, Kogi, Nasarawa and Taraba states have one private university each, while Kwara and FCT have four each. The rest have none. But in the South, Ogun State alone has 12, while Osun has eight, Oyo seven, Delta five, among others.
These universities, with a combined capacity of about 500,000, can only take about 25 percent of the over two million candidates apply for admission into tertiary institutions in Nigeria every academic year.
Sometime in 2020, the Executive Secretary of the NUC Professor Abubakar Rasheed said the federal government was working with stakeholders to address the huge deficit in the sector.
Dateline Nigeria reports that a number of universities are about to take off, with many already accredited and others given provisional licences.
Some of the universities in the pipeline include Al Ansar University in Borno (private), Capital City University Kano (private), AS-Salam Global University, Hadejia (private) Nok University Kaduna (private), Confluence University of Science and Technology Kogi State (state), among others.