Environment
Hurricane Fiona strengthens as it moves north toward Bermuda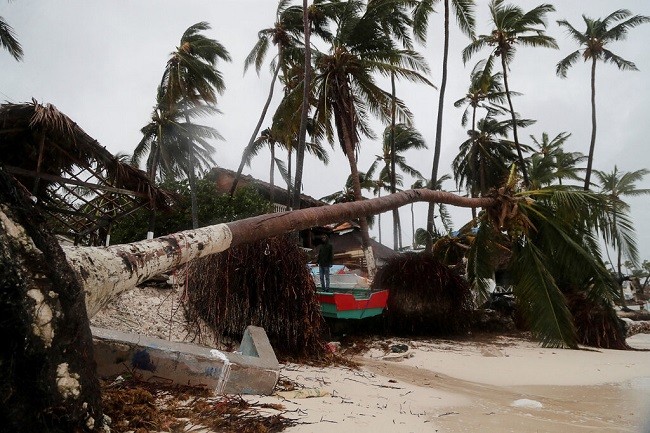 Hurricane Fiona was slowly moving north toward Bermuda as a Category 4 storm on Wednesday after battering the Turks and Caicos Islands, drenching parts of the Dominican Republic and leaving more than one million customers without electricity in Puerto Rico this week.
Fiona, the strongest storm so far this Atlantic hurricane season, strengthened into a Category 4 storm early Wednesday and was about 675 miles southwest of Bermuda as of 11 a.m. Eastern time, the National Hurricane Center said. The hurricane had maximum sustained winds of 130 miles per hour.
The Bermuda Weather Service issued both a tropical storm warning and a hurricane watch for the island, with tropical storm conditions expected and hurricane conditions possible by Thursday night or early Friday. The forecast called for two to four inches of rain, the Hurricane Center said.
Forecasters did not anticipate that Fiona would threaten the East Coast of the United States, but the Hurricane Center said that the hurricane could generate swells causing life-threatening surf and rip currents there on Wednesday and Thursday.
In Bermuda, the government urged residents on Wednesday to prepare for the storm by making sure they had food, medicine and water on hand, and by securing their homes, property and boats.
The storm battered the Turks and Caicos on Tuesday, causing power outages and displacing at least 163 people, officials said. There were no immediate reports of injuries or fatalities.
Another weather system in the Atlantic developed into Tropical Storm Gaston on Wednesday, becoming the seventh named storm of the 2022 hurricane season. That storm was 775 miles west of the Azores in the North Atlantic early Wednesday, with maximum sustained winds of 65 m.p.h.
Gaston, which posed no immediate threat to land, was forecast to begin to weaken on Thursday, the Hurricane Center said.
Fiona's effects were still noticeable on Tuesday in the Dominican Republic, where flash flooding continued after heavy rains that were expected to drop up to 20 inches in some places, and in Puerto Rico, where most people remained without electricity and running water.
As of Tuesday afternoon, portions of Puerto Rico were forecast to receive up to 35 inches of rain since Sunday. The authorities there said they had restored power to more than 300,000 utility customers, but nearly 1.1 million customers were still without power as of Wednesday morning, according to poweroutage.us, which tracks interruptions.
Officials in Puerto Rico said on Tuesday that two-thirds of the island's water and sewer customers — more than 760,000 — still did not have service because of a lack of power to pumps or turbid water at filtration plants.
Gov. Pedro R. Pierluisi said it would take at least a week for his government to estimate how much damage Fiona had caused. The rain in parts of central, southern and southeastern Puerto Rico had been "catastrophic," he said at a news conference.
At least four deaths have been attributed to Fiona: two in the Dominican Republic and one each in Puerto Rico and Guadeloupe, which was struck by the storm on Saturday.
The Dominican Republic's eastern provinces, home to one of the largest tourism industries in the Caribbean, took the brunt of the storm early on Monday. Fiona brought 90 m.p.h. winds and heavy rain that set off mudslides, shuttered resorts and damaged highways, officials said.
The Atlantic hurricane season, which runs from June through November, had a relatively quiet start, with only three named storms before Sept. 1 and none during August, the first time that had happened since 1997. Storm activity picked up in early September with Danielle and Earl, which formed within a day of each other.
The links between hurricanes and climate change have become clearer with each passing year. Data shows that hurricanes have become stronger worldwide over the past four decades. A warming planet can expect stronger hurricanes over time and a higher incidence of the most powerful storms — though the overall number of storms may drop, because factors like stronger wind shear could keep some weaker storms from forming.
Hurricanes are also becoming wetter because there is more water vapor in the warmer atmosphere; storms like Hurricane Harvey in 2017 produced far more rain than they would have without human effects on the climate, scientists have suggested. Also, rising sea levels are contributing to higher storm surges, the most destructive elements of tropical cyclones.
In early August, scientists at the National Oceanic and Atmospheric Administration issued an updated forecast for the rest of the season, which still called for an above-normal level of activity.
In it, they predicted the season could include 14 to 20 named storms, with six to 10 turning into hurricanes that could sustain winds of at least 74 m.p.h. Three to five of those could strengthen into what the agency calls major hurricanes — Category 3 or stronger — with winds of at least 111 m.p.h.
Last year, there were 21 named storms, after a record-breaking 30 in 2020. For the past two years, meteorologists have exhausted the list of names used to identify storms during the Atlantic hurricane season, an occurrence that has happened only one other time, in 2005.
Maria Abi-Habib, Hayden Boyce, Johnny Diaz, Christine Hauser, Amanda Holpuch, Mike Ives, Anatoly Kurmanaev, Patricia Mazzei, Eduardo Medina, Christopher Mele, McKenna Oxenden, Vimal Patel, Hogla Enecia Pérez, Víctor Manuel Ramos, April Rubin, Edgar Sandoval, Chris Stanford, Derrick Bryson Taylor and Daniel Victor contributed reporting.