When Ibrahim, aka Danfulani, went to bed Saturday night at the quarry where he was a security guard, he had no inkling of what cruel fate had in store for him.
By Sunday morning his lifeless body was found near the generating set powering the crusher where rocks are crushed into smaller rocks, gravel, sand or rock dust.
Read Also: Matawalle to collaborate with FG to resettle IDPs, others
Danfulani's killers used three small rocks that were awaiting entry into the crusher to crush his head, leaving the body with his skull splattered all around.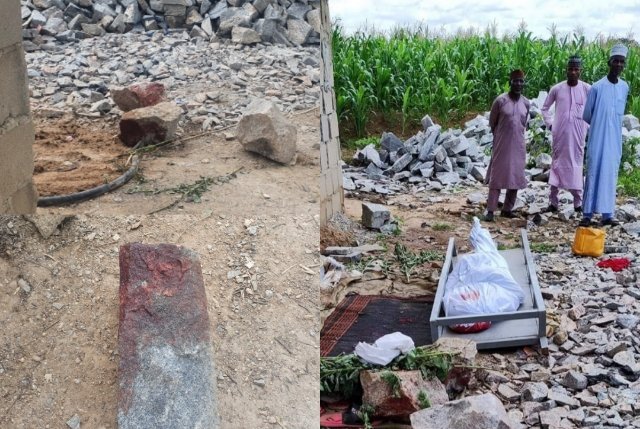 The incident happened at the quarry along Patrick Yakowa road in Karji area of Kaduna metropolis.
"It was a sight I pray never to come across again because it is better imagined than seen. Not even in a movie will you see such level of viciousness. People were just crying," said a colleague at the site.
"It must have been the result of drug abuse whichbis fast spreading all around us. Nobody in his right senses will do this, never!" he added.
Speaking to Dateline Nigeria, Danfulani's boss Hassan Gunduru said "We are still at a loss at to the motive of the killers who made away with the battery of the generator. But there were other valuables that many a thief won't overlook.
"We have reported the matter to the police and some operatives were here. They have promised to investigate. But we will continue trying to find out the motive of the killers who may be three or more."
Danfulani's funeral prayer held at the same site and was buried at the cemetery closeby. "Blood has stained most of the white garment he was wrapped it because it just won't stop flowing," one of the collegues Abdullahi said.
Gunduru described the late Danfulani as a nice, middle-aged young man, very thoughtful and reasonable.
"Anytime I failed to pay his salary on time, he would tell me not to bother since he was certain that it would come. He never had issues with anyone," he said.
Somehow his relatives are not known. He has apparently lost touch with his base. But his honesty meant he was one to be trusted. And trusted he was until the last day.