News
FG, World Bank to support states implement NG Cares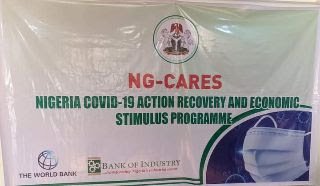 The Federal Government has reiterated its commitment to support states and the FCT implement the Nigeria COVID-19 Action, Recovery and Economic Stimulus (NG-CARES) programme in order to cushion the effects of COVID 19 pandemic on poor and vulnerable households in Nigeria.
Chairman of the Federal CARES Technical Committee of the NG-CARES and Director Economic Growth in the Federal Ministry of Finance, Budget and National Planning, Aso Vakporaye made the commitment in Abuja Tuesday.
Read Also: FG will gazette court order declaring bandits terrorists – Malami
He speaking at a one-day meeting with states and the FCT on Packaging of Documentation for eligibility under the NG CARES programme, according to a statement on Thursday by Suleiman Odapu, the programme's Information and Communication Officer.
"I urge on states and the FCT to present their concerns, seek clarifications on any issue regarding the implementation of the programme as I assure you of the Federal Government commitment to support always" Vakporaye said.
According to Vakporaye, the NG CARES programme is in line with the Economic Sustainability Plan of the country and a two -year programme that can put the economy of the poor and vulnerable in a better position.
Vakporaye thanked the state Governors for believing in what the NG CARES programme has been designed to achieve, noting that some of the state governors have already released funds for prior NG CARES activities.
On its part, the World Bank through the Task Team Leader for NG-CARES, Prof. Foluso Okunmadewa commended the Nigerian government for coming up with people's centered programme that addresses the fight against poverty.
"I salute the commitment that has been shown by the federal and state governments to the laudable objectives of the NG CARES. We have seen substantial actions, strives and response by the federal government in making sure that this programme moves as quickly as possible. The world bank appreciates this commitment" Okunmadewa stated.
The Task Team Leader further stated that the World Bank is committed to assisting the Federal Government of Nigeria in its agenda of lifting 100 million Nigerians out of poverty in ten years.
Earlier, the National Coordinator of NG CARES, Dr. Abdulkarim Obaje, revealed that preparations are on top gear for the national launch of NG CARES programme scheduled for December,2021.
He also announced that the meeting agreed to a target of 20 states to be disbursement effective by end of 2021 to start receiving funds to implement the programme provided their Eligibility package is complete.
NG-CARES is a state operations with support from the World Bank in the amount of 750 million USD credit to support the 36 states and FCT mitigate the impact of COVID-19 pandemic on the livelihoods of poor and vulnerable households and micro-enterprises in the country.