Arts
Fatima Abba Gana talks about her upcoming twin book launch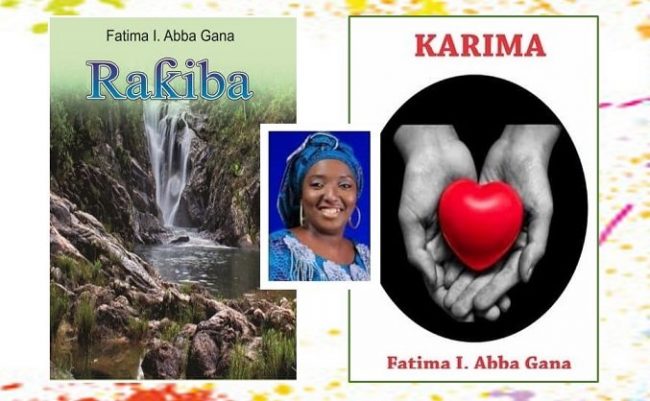 Fatima Ibrahim Abba Gana is a graduate of Accounting from the Ahmadu Bello University (ABU) Zaria. The Kaduna-born Kanuri lady hails from Borno State has experienced growing up in Sokoto, Minna and Kaduna. She did her one year mandatory NYSC in Osogbo, Osun State. She started her working career at the Paki International Motors Kaduna, before joining Bank PHB (formerly Platinum Habib Bank), now Keystone Bank, and Jaiz Bank. Fatima, who is now the Managing Director of Shawullam Nigeria Limited, speaks about her two books set for launch on January 8, 2022. Excerpts:
Two books you authored – Rakiba and Karima – are about to be presented to the reading public. Can you briefly tell us about the two books?
Rakiba is my first book and it is a love story that spans two countries. It is about 500 pages long. A girl was set up for murder by her close friends. To escape conviction, she had to flee the country and leave behind her family and loved ones, including the 'love of her life'. Though she was cleared of her 'crime' after she left the country, the 'love of her life' eventually married another girl. But because of the love he had for Rakiba he went insane. On the other hand, when Rakiba arrived in the new country, she was picked up inside the forest by a medical doctor Tajudeen who took her home and vowed to marry her when she sorted herself out. However, the medical doctor didn't show her the feelings he had for and kept it to himself. When his cousin Adnan, an architect, came back from Germany he showed interest in Rakiba, just like Marwan, a younger brother to the husband of Tajudeen's elder sister in Bauchi, who fell in love with Rakiba when she went to bauchi for Holiday.
The young Rakiba while deeply in love with Marwan and the relationship had gone very far and they had started planning to get married and all this while Tajudeen the doctor who helped her and had picked her up didn't allow any one know his true feelings and plans. As fate would have it, Adnan the architect had a motor accident and died. On the same day, Tajudeen had a ghastly motor accident on his way to work. He damaged his two legs and was confined to a wheelchair. But when Marwan came to profess his intent of marriage to Rakiba, everything exploded. Tajudeen vowed there was no way he would allow her to marry another man other than himself and thus causing more confusion and chaos within the family .
Rakiba eventually chose Tajudeen over Marwan, who was asked to pick another girl from the same family and leave Tajudeen to marry Rakiba. Tellingly, while all this was going on, a double revelation came to the family. Late Adnan had married and had a son abroad with a cousin of Rakiba. The son was left in the custody of Adnan's best friend who would eventually be a link to both Marwan and Tajudeen. It also emerged that Rakiba changed her name from Tauhida when she ran away from home after being accused of murder.
What about the second book you are launching?
Yes, the second book is titled 'Karima'. It is a shorter story, just about a 100 pages and it is a story of a young girl who fell in love with a poor boy from the neighborhood. But because Karima grew up in the custody of her grandmother, who loved money more than anything in the world, she was given in marriage to a rich man. Much to everyone's disdain, and after Karima had married and gone to another man's house and bore him children, it didn't extinguish her feelings for Samaila, her old flame. Meanwhile, Samaila took his belongings and left the town in search of knowledge and fortune, and acquired both at the end of the day. He became very rich and powerful and married with the help of his mentor who taught him business and way of life. In a twist of fate, the son of Karima who is now a widower and the daughter of Samaila fell in love in school abroad and promised to get married when they came back home, only for them to realize that there was an old family history between them. By the time Alh Samaila Kibiya realized that Karima's son was the one intending to marry his daughter, he refused. Karima also initially refused to accept it, but she later gave in when her son refused to back down. Samaila Kibiya grudgingly accepted the marriage after his godfather intervened, but he travelled out of the town in order not to witness the wedding. Shortly after he came back, had a slight accident and fell down in the toilet. He died instantly as a result of the head injury he suffered. Three days after, Karima also died from shock, leaving the children to chart their own course.
How did you come about writing them? What was the process like for you?
I have always loved writing, giving life to my thoughts. This is how the two books came about. I was working in the banking sector and I normally write in the middle of the night. So writing alongside my banking job may seem demanding, but that was neutralized by the love I have for writhing. The process was not stressful, it was just coming to me normally.
Being a Kanuri lady, many would have expected you to write either in your native language or English. Why and how did you settle for Hausa?
I have written books in both English and Hausa. Presently, I have some that have not been published yet. In the near future, I am going to write in my native Kanuri too. Plans are in the pipeline for that. Writing in different languages gives you the change to reach diverse audience. Like I said, I have three unpublished English books, which I would publish someday.
Which of the two will you recommend for readers to start with?
The two books are interesting in their own unique ways and style. But I will recommend Rakiba because it's my first book and it's a complicated story of four 'men and one woman' and it has a lot of twists that no reader would be able to predict how the story goes to the end. It is intriguing with varied themes, including deceit, love and many more.
How long did it take you to write the two books?
It took me 18 months to write Rakiba. I was a banker and juggling between writing and pursuing banking career. Karima, on other hand, took me two months to write.
You have had the privilege of experiencing life in different parts of Nigeria, to what extend did that influence your writing?
I had the privilege of getting a feel of different cultures, people and ways of life of people and it has helped me a lot in my experiences in writing as I have always loved writing. It has widened my horizon, which in turn gives me the opportunity to travel far in my thinking.
The reading culture, especially in Northern Nigeria, is poor. Can we change the narrative in a positive way?
Yes we can change the reading culture by enlightening the youth more on the advantages of reading. We can do this through many ways, one of which is seeing to it that we preserve the culture by penning down experiences for them to tap from. we have to set up reading clubs in schools and writers to go in to schools to Enlighten them about importance of reading and writing We can also teach them the need to gather more experiences by tapping into the minds and brains of authors through reading their work.Trainings on student that are in literature on importance of reading and writing and completions to encourage them.
How has writing impacted your banking career?
My banking career and my writing are two different worlds. I have never allowed my writing to affect my banking job or allowed one interfere with another. The banking job has specific demands and known period of work, while writing benefits a lot from my free time. Both are different sides of the coin of who I really am.
What does a typical writing routine look like for you?
A typical writing routine for me is writing in the middle of the night; that's when I flow better and go to banking in the morning. I love multi-tasking and I write at will. I always create time for my write-ups even with my hectic and busy schedules.
Some writers talk about pressure to write in a certain way. Are you limited by what people may say about your work?
Readers are bias in thoughts, but I also know the message that I have and want to pass. I always try to capture my thoughts in the best possible way, so that I deliver the right message. I am not limited by what people say or think, because that is not within my power.