Entertainment
News
Fatal Arrogance: I regret starring in film on Shiites – Yakubu Mohammed
Popular Nigerian actor Yakubu Mohammed says he regrets starring in a film on Shiites which has become a subject of controversy in Nigeria.
Yakubu Mohammed and other actors that featured in the film, Fatal Arrogance, came under attack after a photo was released on social media.
The Shiite group Islamic Movement in Nigeria (IMN) had petitioned the Inspector general of police and the Films and Censorship board over the movie saying it portrayed them in bad light.
The IMN also accused the Nigerian Army of sponsoring the movie, but the Nigerian Army has since dismissed it as untrue.
BBC Hausa speaks to Yakubu Mohammed in an interview:
What film is about
Yakubu Mohammed: When I was given the script to go through, I realized that it was about the clash between Muslim Brothers (members of the Islamic Movement in Nigeria) and soldiers in Zaria, where many of the brothers were shot. When I was given the script I didn't know there was a book or any written piece titled "Fatal Arrogance".
It was eventually that I found that out. But after going through the script, I honestly didn't see anything wrong with it, because it was based on what happened in Zaria.
However, a script may not give you a complete picture of the intended message in a film.
Sometimes, you may observe some mistakes in the end. When I was given the role, I asked them who was sponsoring the film.
I was told that it was a human rights organization. I didn't prod further because I didn't want it to appear as if I was trying to take over the film from the owners.
The Role I Played
Yakubu Mohammed: I starred as a Muslim Brother, who was shot at the Zaria incident. I eventually died after putting in about six appearances.
Why I starred in the film
I am an actor, and I was not the one given the film to produce. I was called upon to take part as an actor. But like I said earlier, I have observed some mistakes in the film and I tried to draw the attention of the producers for them to take corrections.
I asked them why they took the film to Enugu seeing that the people there are not Muslims and may not be able to play the expected role necessary for such a film. But I thought I was interfering too much.
Also, there was a scene that every Muslim will find offensive. There is the picture of Pete Edochie dressed in a Shiite attire, holding a bottle of beer, with a girl giving him a peck.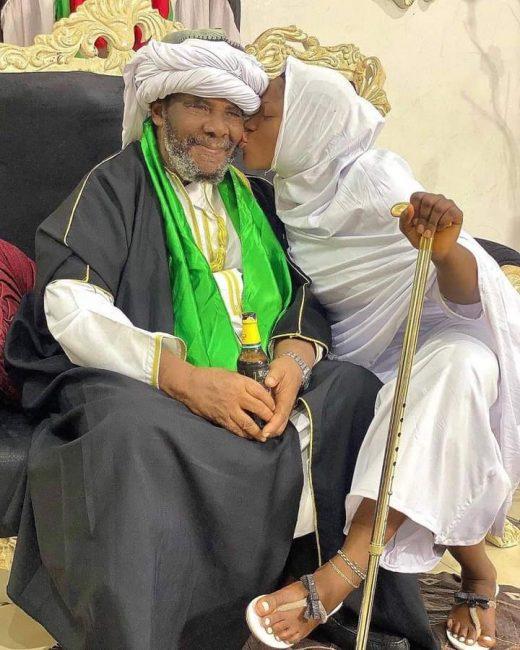 I wanted to educate the people. I swear, that picture was not part of the film. They were just fooling around before the camera started rolling.
Does an actor have the right to ask to be removed from a scene or a film?
Yakubu Mohammed: Of course that right is there. But they will ask you to pay them damages, which that will cause them. And I gave them two options. If, for instance, they say they cannot correct it, I am ready to pay them the damages because living in peace is better than living as a prince.
Did you face any threat since the emergence of that photo?
Not at all. But I have been cursed and I have to reason with people. This is because whoever came across that image cannot be happy.
Do you regret starring in the film?
Honestly I regret acting in it because I agreed to take part with the best of intentions but after all these reactions one cannot be happy.
Some will call you and say 'Haba Mallam Yakubu, why did you act like that?' But in our profession, one can assume different roles from marabout, to a cleric or even a policeman. There is nothing wrong with that.
But if a film will be offensive to some people, one should not take part in it. I regret this because I don't want to become unpopular. I want to be identified positively any time my name is mentioned.
For me, some people were wronged, and virtually everybody knows that. Human life is sacred and should not be taken just like that. And then you see the opportunity to be part of putting the record straight. That was why I took part in the film.