News
Chinese man in police net for 'stabbing girlfriend to death in Kano'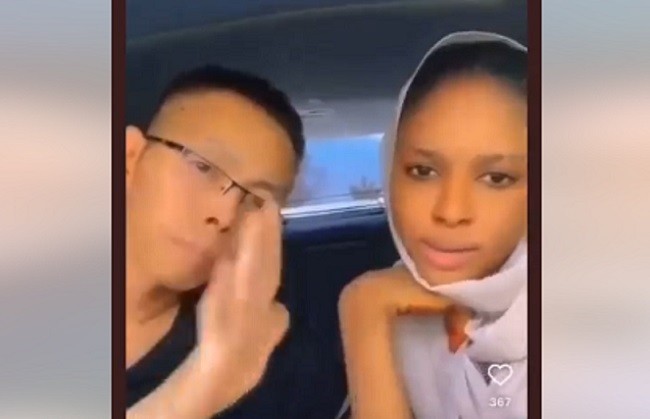 The police in Kano State have arrested a Chinese man Geng Quanrong for allegedly killing his girlfriend Ummukulthum Sani, popularly called Ummu.
Residents of the area where the incident happened and some family members of the slain lady told the BBC that Ummu and Geng had been dating for some time, but it was not clear what happened between them.
Spokesman of the Kano State Police Command, SP Abdullahi Haruna Kiyawa, confirmed the arrest of the suspect, adding that he was being interrogated.
Geng has been accused of breaking into Ummu's house on Friday night and slitting her throat.
The suspect was arrested after neighbours raised the alarm over what was happening.
The deceased's aunt told the BBC that they were sitting at home when they heard knocks on the door, but Ummi asked them not to open the door because she knew who was knocking.
She said the suspect spent close to an hour knocking on the door, prompting the deceased's mother to open the door. Geng reportedly pushed her away and forced his way into the house.
He was said to have made his way into the room where he stabbed Ummi repeatedly with a knife.
Bappa Sani, who lives on the same street with Ummu, said she started a relationship with the Chinese national after her first marriage crashed.
Ahmad Abdullahi, a family friend of the deceased, said "Most of the time, you will find me in Ummu's house. Her brother and I had just stepped out of the house around 9.35pm to find something to eat, only for us to return and see people in front of the house.
"Geng has been her boyfriend even before she married. Everyone in the house knew him. In fact sometimes they would sit inside the house to gist.
"What I know is that they had been having issues lately and she told him that she was no longer interested in the relationship. That is what infuriated him."
He added that Geng had tried to run away after committing the crime, but he was nabbed.
"We took Ummu to a nearby hospital but doctors said she had died even before we reached because she had lost so much blood."