News
3 policemen, district head, 4 others killed as gunmen ambush Kaura Namoda emir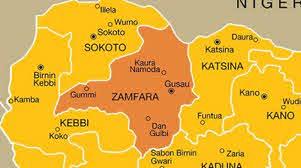 Three policemen, a District Head and his social media manager as well as three others were killed Thursday night when gunmen opened fire on the convoy of Emir of Kaura Namoda Sanusi Muhammad.
Palace sources informed Dateline Nigeria that the incident happened at a notorious spot near Jabiri in Funtua Local Government Area of Katsina State, when the emir was returning from Abuja.
The emir escaped the attack which was confirmed by Zamfara State Commissioner of Police, Usman Nagogo. He, however, declined further details.
Kaura Namoda is about 60 kilometers from Zamfara State capital, Gusau.
The source said "I have been told up to eight people died. But the emir is safe. They include three policemen, the Dan Amar (a District Head), his social media manager and three others."
He said the emir had attended an official assignment as a member of a committee for traditional rulers in the state and was returning to his domain when the attack happened.
"He has been traveling a lot lately for the committee's work and also touring his domain to familiarize with his subjects, being a new emir," he said.
Sanusi Muhammad, 40, was appointed the Emir of Kaura Namoda in May this year by the governor of Zamfara State, Bello Matawalle, after the death of his father, Emir Muhammad Asha.