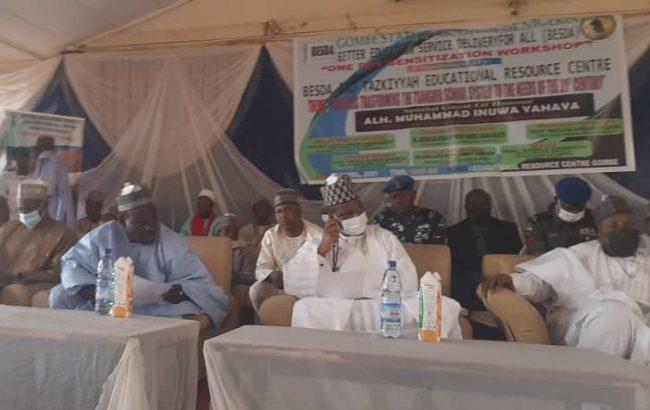 The Better Education and Service Delivery for All (BESDA) Gombe State has educated Tsangaya school proprietors on the needs for transformation of the system.
A one-day training workshop was organised by BESDA in collaboration with Tazkiyyah Educational Resource center with theme "Towards transformation the Tsangaya School System to the needs of the 21st century."
Read Also: El-Rufai asks operators of Almajiris schools to relocate
Gombe State Governor Alhaji Muhamnadu Inuwa Yahaya reiterated the commitment of his administration to transforming the education sector in the state.
Represented by the Chief of Staff Government House, Alhaji Abubakar Inuwa Kari, the governor said, under the BESDA programme, 676 learning centers for boys and girls pupils were established, 70,000 pupils and girl-child enrolled in the centers and 1600 NCE teachers were employed to teach western education in the centers.
He commended the successes recorded by BESDA and commended traditional Qur'anic School owners for their support to the programme.
Guest Speaker at the occasion Professor Ibrahim Ahmad Makari, Imam of Abuja National Mosque, urged Tsangaya school owners to continue to embrace government policies and programmes aimed at developing the skills and capacity of their pupils towards improvement of standard of living.
Professor Makari advised Qur'anic teachers and pupils to learn the skills they need to succeed in tomorrow's competitive world by rethinking yesterday's teaching practices.
The scholar urged government and the society to support Quranic schools to enable them excel in today's society, even as he urged government to provide social amenities to its citizenry.
Chairman of the occasion, Dr Abubakar Sirimbai Sheikh Dahiru Bauchi stressed the importance of seeking for Quranic education and urged the Tsangaya school proprietprs to embrace all educational programmes that come for the development of society.
He said western education introduced in schools under BESDA programmes are aimed at providing technical and skilled knowledge that will improve the living standard of the society.
Gombe State Project Coordinator of BESDA Dr Abdullahi Bappah Ahmed Garkuwa commended Governor Muhammed Inuwa Yahaya for his support towards the development of education in the state.
Dr Garkuwa advised participants to cooperate more with laudable programmes of BESDA to improve the education of their children.