News
Bauchi gov lifts community out of eight-month old darkness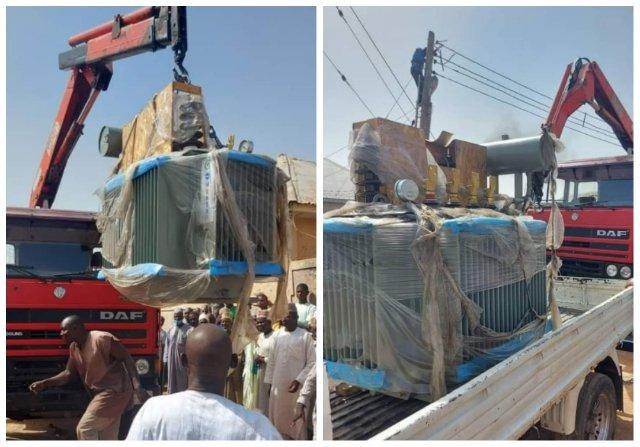 Bauchi State Governor Senator Bala Mohammed has put smile on the faces of Sabon Kaura Community in Bauchi Local Government Area by supplying them with 500KVA transformer after eight months in darkness.
Senior Special Assistant on Projects to the Governor Alhaji Musa Ahmed Azare disclosed this to journalists Thursday in Bauchi when he led the installation of the brand new 500 KVA transformer to the community.
Read Also: Ex-Bauchi Accountant General convicted for N108m scam
Azare said that when the governor heard the complaint of the community, he directed him to investigate and give him a report and recommendations.
He added that immediately he submitted the report, the governor directed him to provide them with 500 KVA transformer to boost electricity supply in the area.
The SSA explained that the governor had set up a special committee that is going round the 20 local government areas of the state to restore the electricity supply to communities that were cut off either due to one fault or the other.
He said government is also constructing over 2000 boreholes to provide potable water to the communities in rural areas.
He commended the Sabon Kaura community for their support and steadfastness towards the success of the exercise an assured them the readiness of the state government to provide them with more social amenities.
Leader of the community, New Village Head of Sabon Kaura Abdussalami Sarki Umaru said the timely intervention of the governor saved the community, adding that his elder brother late Village Head of Sabon Kaura died in the struggle to restore light to the area.
He said when the transformer bust the late Village head lodged a complaint to the Jos Electricity Distribution and he was advised to see one senior. "The day they were to meet the officer at 10 oclock in the morning, he went to the mosque for early morning prayer and slumped and died."
Abdussalami said his son, who is a welder, couldn't open his shop for about eoght months, and had to stop his education "because we dont have money to buy generator to enable him continue with his business."
The Sabon Kaura community is housing thousands of inhabitants including students of Abubakar Tafawa Balewa University Bauchi, College of Agriculture Bauchi, and there are people from different ethnic groups residing in the area.
The 300 KVA transformer installed to provide electricity to the community 12 years ago busted which paralysed many small businesses and brought untold hardship to the community.
Our correspondent gathered that before the intervention of the Bauchi State Government under Senator Bala Muhammed Abdulkadir, youths in the area who used electricity for welding, barbing salon, grinding machine business to take care of their needs had to close shop.