News
Battlefields that'll test Buhari's new service chiefs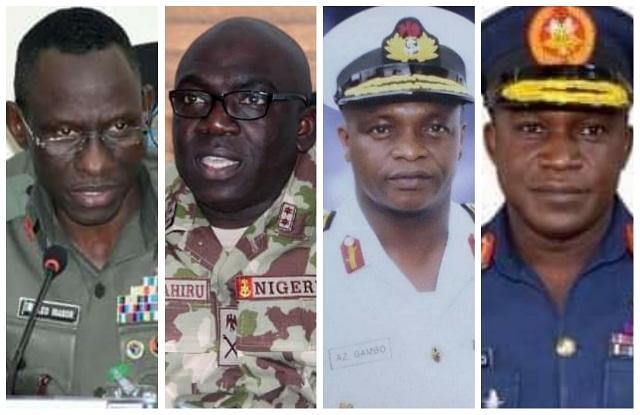 The new service chiefs just appointed by President Muhammadu Buhari will be coming into their new jobs at a time security challenges have spread all over the country. How they turn the tide will be the yardstick that Nigerians will use to measure their performances.
Dateline Nigeria highlights some of the major security concerns that will define their tenures.
Insurgency
The first parameter for Nigerians to assess the new service chiefs will be how quickly they defeat Boko Haram and ISWAP and bring the insurgency bedeviling parts of the country, especially the North-East, to an end.
Under their predecessors, so much was achieved in the fight against the terrorists, the high point of which was the capture of the Sambisa forest in 2016. However, the seeming inability of the military to completely rout out the remnants of Boko Haram after that feat and end the insurgency that's now in its 11th was largely seen as the reason why the terrorists were able to make a come back, launching daring attacks on both civilians and soldiers.
The new service chiefs can warm their way into the hearts of Nigerians if they can speedily end the Boko Haram and ISWAP menace.
Banditry
When Buhari made his first appointment of service chiefs in 2015, armed banditry was only being experienced in parts of Zamfara, Kaduna, Plateau and Katsina states. The new service appointed today are coming at a time when banditry is being experienced in almost all the states in the North, with attendant human and economic toll.
Many people in the affected states have been forced out of their homes following attacks by bandits. In other places, houses have been razed and farmers evicted from their communities.
How they bring the challenges pose by bandits under control will determine how Nigerians rate them.
Kidnapping
Another major security challenge that is currently spreading its tentacles all over the country, is the issue of kidnapping for ransom.
Roads linking parts of the country have over their years become dangerous to ply because of the activities of daredevil kidnappers. This is the same as some communities where kidnappers have constantly visited their dastardly act.
The new service chiefs will have to address this problem, especially as it is threatening the peace of the country, as it's given ethnic coloration.