Opinion
An open letter to Major Chukwuma Kaduna Nzeogwu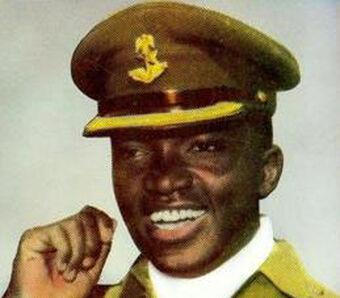 I was years away from being born when you staged a coup that was bloody and sectional in every sense of the word. So you may be curious as to why I chose to pen a letter to you.
I have read and read a lot about you and your name has come up now and again in the over 45 years that I have been around as a citizen of this fractious country.
My reason for writing you this letter is simply to update you about happenings around the country years after you have left, a reason I found compelling after reading a letter that a senior compatriot and cleric in the rank and status of Bishop Matthew Hassan Kukah, has written to one of the victims of the coup you spearheaded, Sir Ahmadu Bello Sardauna of Sokoto, and his plan to write another one to another casualty of your putsch, Sir Abubakar Tafawa Balewa.
You would not have known Kukah because he was young when you pulled the trigger that night at Sardauna's residence in Kaduna. But Kukah is a very popular and influential Bishop of the Catholic faith in Nigeria and around the world.
He knows you quite well but always chooses to ignore you. So strange is his attitude towards you that even when he wrote about the "brutal" murder of Sardauna and his wife who loved him to the end, your name as the architect of that night of horror was conspicuously omitted. Such a strange omission can only compare with any literature that will treat the subject of Nazism, holocaust, gas chambers and WW II without mentioning the name of Adolf Hitler.
I don't know his reasons but his attitude towards your name and what it represents for Nigeria has been consistent. Last month, he delivered a Christmas homily that almost set the country on fire because he omitted you and your history and even made a claim that could be tantamount to doubting or changing your faith completely.
It may interest you to know that after the bloody coup that you led, many copycats followed in your steps and overthrew one government or another. It became so chaotic that soldiers were overthrowing soldiers just as they were overthrowing civilians, as you did.
They have done all that and now agreed that we should return to democratic governance, that concept that you detested and terminated using gun barrel.. I am not accusing you because you were guided by a sense of ethnic fervour and sentiment that qualified Sardauna, Balewa and the others as candidates for your bullets even while you spared the lives of your kith and kin who were also in government and top echelon of the military.
You fought in the Civil War that was precipitated by your coup and other events, so I don't have to bore you with the story.
But I should tell you that after the coup, so many governments came and went, so that as I'm writing this letter, the country is being led by a northern Muslim democratically elected president, named: Muhammadu Buhari.
Strangely for Bishop Kukah, it was this President, and not the followers of Christ, that Kukah chose to speak to at such an important, once-in-a-year occasion of Christmas. You just need to read it and you will see that some of the words are similar to those you used in your broadcast after you killed your victims. Did you have "nepotism" in your speech? I can hear you answer, "yes". What a coincidence! Kukah's also had the same word.
I will not accuse him of willingly lifting some of the words from your speech because some of the things he wrote, which I will relay to you here, were clearly intended to rewrite history and leave you, your name and act out of it.
The Bishop also had the word 'coup' as the thrust of his homily, which made people to accuse him of calling for a coup. Remember Nigerians first heard the word echo from the barracks?
He then accused the president of seeking to institutionalize northern hegemony over all parts of the nation and entrench nepotism. You see your word?
But don't be jolted by the news of coups resonating in unexpected quarters. Just about two weeks ago, an outgoing American President was accused of mobilizing his supporters to stage a coup by inciting them to invade the Capitol and disrupt lawmakers' confirmation of his will-be successor's electoral win. In your days, coups should be African, not American. A lot has changed and the population of promoters of violence has grown since you left here.
"Every honest Nigerian knows that there is no way any non-Northern Muslim President could have done a fraction of what President Buhari has done by his nepotism and gotten away with it," were Kukah's exact words in the homily.
"There would have been a military coup a long time ago or we would have been at war."
Thank God, you were the one that introduced military takeover to the nation. So, no one can give you a different narrative from what you knew and experienced. The Prime Minister of the time, Balewa, enjoyed executive powers like the current president – you were not here when we went and copied the American presidential system. But you can remember, I'm sure, you accused Balewa of nepotism and ordered your collaborators to execute him without even giving him a chance to stand trial and defend himself, which they did. And you instructed them not to touch the ceremonial president, Nnamdi Azikiwe, probably because of his ethnic background.
Kukah was alive at the time, by his own account in his letter to Sardauna, when Balewa was killed and he knew the late Prime Minister to be a northern Muslim, that class of Nigerians he opined, are shielded from coups on account of their region and religion.
Yet, Balewa's religious background and his region did not stop you from ending his life and his rule. If Kukah's homily is the last record of our history, then forget about your ugly part in it.
He wants to paint a new picture of Nigeria where one party has the monopoly of violence and bloodshed guaranteed by its religion and geography and the other party is reduced to the status of a powerless victim by its religion and geography.
Balewa was not the last northern Muslim ruler to lose his life in a coup, you wouldn't know because you were not here in 1976 when General Murtala Ramat Mohammed was killed. But you surely knew Murtala to be from the North-West geopolitical zone and that is where the current president comes from. Murtala, to this day, remains the country's first leader to be buried in a mosque – in Kano. If that says anything about his faith.
Another Muslim from the North-West and home state of your victim, Sardauna, Alhaji Shehu Shagari, was overthrown in a military coup by the same Buhari that Kukah was talking about and Kukah was around at the time.
Buhari too was overthrown in a coup, bringing the number Muslims of northern origin that have been ousted through coups to four.
I am sure you are now asking yourself: How did Kukah get his idea about northern Muslim heads of state being immune from coups? I have also struggled not to agree with people who said he was calling for a coup. If he was not actually calling for it, then he was telling whoever would care to listen that northerners in power can be overthrown.
But he came out angrily, days later, to explain that he wasn't calling for a coup but only expressing concerns over loss of lives in the country over the last 10 years. Mind you, Nzeogwu, there was no mention of 10 years in his homily, it was just Buhari and if a non-Northern Muslim – the president is not even seven years yet in office and the one before him is a Christian.
He continues:
"The President may have concluded that Christians will do nothing and will live with these actions. He may be right and we Christians cannot feel sorry that we have no pool of violence to draw from or threaten our country."
You shouldn't turn in your grave over this because I know he wants to deny you the credit for your ignominious role in the first coup.
Remember, you killed a lot Nzeogwu and the only way to help redeem you and win you back your innocence, is to cast you in a different light; to deny you your faith and lump you wherever there is a "pool of violence".
You spilled so much blood, My Dear Nzeogwu. You killed Sardauna, his wife, Brig Gen Ademulegun and ordered for the killing of Tafawa Balewa and a host of others.
Of course, no faith condones violence and unjustifiable killing of innocent souls. But you introduced killing of the innocent to this nation and coached her the way of violence. So, if the Bishop holds that Christians have no pool of violence to draw from, then you and your ilks, the Ifeajunas, the Dimkas and the Bisallas, have to be out of his narratives.
That is why he omits your name and will not write a letter to you.
I have written you this one and, anytime he denies your rightful place in the nation's hall of shame, I will write again to keep you abreast so that your place in the history of our nation will not be lost.
Auwalu A. Adam wrote this piece from Abuja