News
Abduljabbar: 19 children of Sheikh Nasiru Kabara write letter to Buhari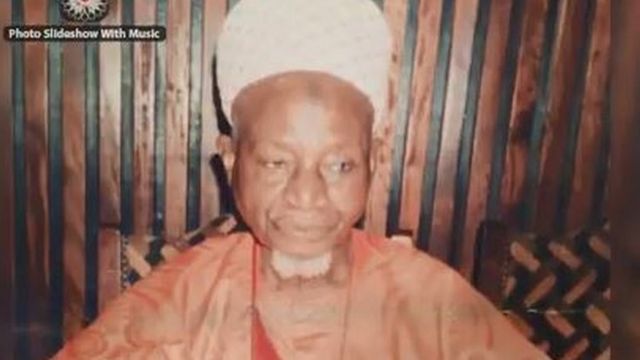 Nineteen children of the late Sheikh Nasiru Kabara have written a letter to President Muhammadu Buhari seeking his intervention over what they described as a plot to silence their brother Sheikh Abduljabbar Nasiru Kabara.
In the letter, which is signed by Sheikh Sidi Musal Qasuyuni Nasir Kabara, the 19 children asked the president to stop the injustice being meted to their brother.
Read Also: Police arrest 4 over sectarian violence in Kano
However, the eldest son of the late Sheikh Kabara and the current leader of the Qadiriyya movement Sheikh Qaribullah Nasiru Kabara is not a signatory to the letter. Dateline Nigeria also reports that Sheikh Qaribullah is the only child of his mother.
The signatories also want the president to intervene and help Abduljabbar out of incarceration over his alleged blasphemy against Prophet Muhammad (SAW).
Those who signed the letter
Out of the 33 chuldren of the late Sheikh Nasir Kabara, 19 signed the letter. They are
Sheikh Ibrahim Mu'azzam Sheikh Nasir Kabara
Sheikh Sidi Musal Qasuyuni Sheikh Nasir Kabara
Malam Askiya Sheikh Nasir Kabara
Malam Yahya Sheikh Nasir Kabara
Malam Aburumana Sheikh Nasir Kabara
Sayyidah Saratu Sheikh Nasir Kabara
Sayyidah Nafisatu Sheikh Nasir Kabara
Sayyidah Khudriyya Sheikh Nasir Kabara
Sayyidah Zam'atu Sheikh Nasir Kabara
Sayyidah Saffanatu Sheikh Nasir Kabara
Sayyidah Aishatu Mannubiyyah Sheikh Nasir Kabara
Sayyidah Ummu Aimanal Habashiyyah Sheikh Nasir Kabara
Sayyidah Khadijatul Habashiyya Sheikh Nasir Kabara
Sayyidah Huza'iyyah Sheikh Nasir Kabara
Sayyidah Jamila Sheikh Nasir Kabara
Sayyidah Bulkisa Sheikh Nasir Kabara
Sayyidah Rukayyah Sheikh Nasir Kabara
Sayyidah Hansa'u Sheikh Nasir Kabara
Sayyidah Umamatu Sheikh Nasir Kabara.
Content of the letter
"With due respect and humility sir, we the children of late Sheikh Muhammad Nasir Kabara, want to present our case to you as a father to all Nigerians, who will not support injustice in whatever guise.
"We are using this medium to present our case to you seeking your intervention over the matter involving our sibling Sheikh Abduljabbar Nasir Kabara, who is being unjustly accused by some scholars.
"The scholars are accusing him because of some baseless differences between them, just to achieve their selfish motive. They are deliberately distorting his preaching and comments and accusing him of blasphemy against Prophet Muhammad (SAW).
"They are doing this to defame his reputation in the eyes of the world and get him out of the way.
"All the things they are doing are for selfish reasons, just because we differ in practice and because of their disagreement with Sheikh Adbuljabbar Kabara.
"Your Excellency Mr President, we assure you that all the allegations levelled against our brother Sheikh Adbuljabbar Kabara are spurious, just to achieve a hidden motive.
"Indeed all the things they are trying to pin on our brother are things he is working hard to expose and counter.
"We assure you Mr President that we the children of late Sheikh Nasir Kabara, going by what we learnt from our late father to revere the Prophet (SAW), will never support anyone that will defame the prophet.
"And if such happens, then we will be the first to confront that person whoever he is.
"Hence, whoever knows our brother Sheikh Abduljabbar knows him as one of those at the forefront in defending the honour of the prophet SAW.
"With all honour sir, we want you to intervene in this matter by stopping the maltreatment of our brother and the injustice being done to him.
"Lastly, we wish you well and success.
"We thank you very much even as we await your kind consideration."