The Yasmin El-Rufai Foundation has released a longlist of writers for the 2022 Hamza El-Rufai Short Story Prize.
The longlist is comprised of ten short stories selected by a team of four judges chaired by Kenyan writer and novelist, Gloria Mwaniga Minage. The judges are Ibrahim Bala Kanti (Academic, Literary Critic & Researcher), Star Okpeh (Poet & Columnist) and Katung Kwasu (Academic, Literary Critic & Researcher).
The longlisted stories are:
A Week on Mars by Asma'u Abubakar (12 years)
Entrench by Hope Philip (17 years)
Golden Thread by Prince John (17 years)
Haifa by Yusra Idah Idris (17 years)
It's the Little Things by Muhammad Al'amin Yusha'u  (17 years)
Mama Pajok by Damian John Audu (17 years)
Moment for Life by Godwin Ishaku (17 years)
The Fragrance of a Thing Believed by Yusra Mohammed Yusuf (16 years)
The Travails of Eme by Emmanuella Simon Audu  (16 years)
Yarima by Maryam Ahmad Suleiman (14 years)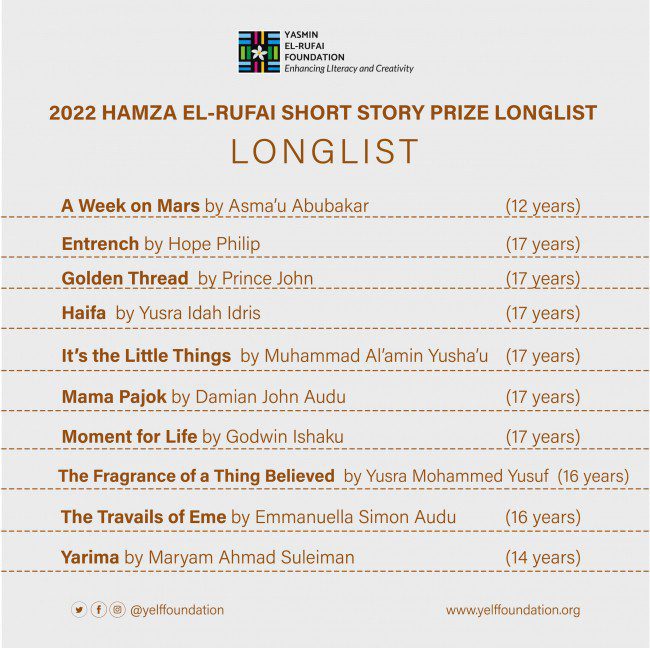 Gloria Mwaniga Minage said "The stories were a pleasure to read. The young writers showed a keen awareness of their world through rich, compelling and imaginative narratives.
"The reader will enjoy a delightful assortment of humorous, surprising, haunting and insightful tales. Collectively, the stories show that indeed, there is no such a thing as a single story about a place."
While congratulating the 10 writers, she said "The shortlist will be out sometime in October."